After six straight days of gains, the Stellar price is back to a key resistance level. And this time, XLM looks likely to burst through it. The last time Stellar reached $0.4100 in August, it marked the start of a reversal that wiped 20% off the price and put the recovery under threat. However, the coin has shown incredible resilience, gaining 20% and working back to $0.4000.
Although Stellar Lumens (XLM/USD) has doubled from the July $0.1990 low, for the last three weeks, the Stellar price has bounced around between $0.3250 and $0.4100. Furthermore, last week, the price was below the 100 and 200-day moving averages and looked set to drop off a cliff. However, XLM has strung together the longest winning streak since February and closed higher in each of the last six trading days. As a result, the technical outlook has flipped from bearish to bullish. Not to mention, if stellar can clear $0.41000, the bullish outlook will improve even more.
XLM price Forecast
Several positive developments can be seen on the daily chart. Firstly, although the price did close below the 200-day moving average at $0.3386 last week, XLM recovered the indicator the next day, triggering the recent bullish run. Therefore, as long as Stellar stay above the $0.3386, the outlook is positive.
Additionally, the Relative Strength Index is trending upwards, and at 63.42, leaves room for the price to extend higher before becoming stretched. Also, the MACD shows that momentum has turned positive. This should soon result in the 50-day moving average at $0.3369, crossing the 200-day, providing another bullish catalyst.
Successful clearance of $0.4100 could see the Stellar price extend towards the $0.5000-$0.5300 area. This should offer formidable resistance, as was the case following the May crypto crash when the bounce faded from $0.5300. On that basis, if the price advances beyond $0.5300, it would mark a 180-degree turnaround in sentiment and possibly propel XLM towards the range of highs in May between $0.7300 and $0.7978.
Stellar price Chart (Daily)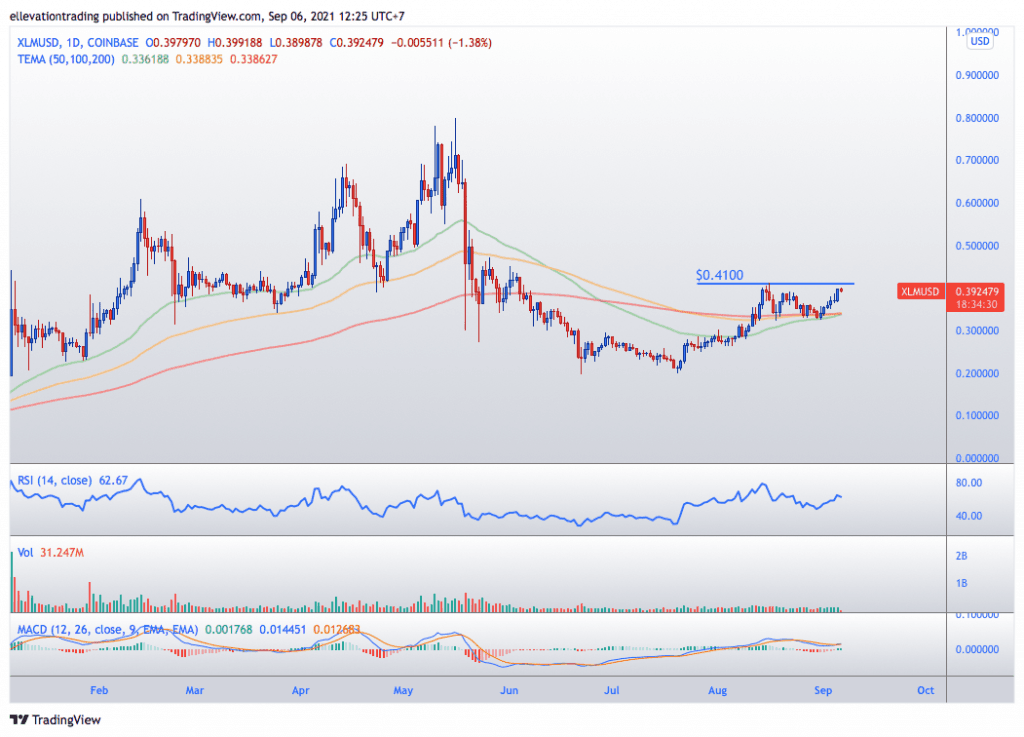 For more market insights, follow Elliott on Twitter.