The selloff on the SPELL/USDT pair appears to have eased in recent days, and Monday's 7.69% upside could be a sign that bullish Spell Token price predictions are starting to emerge. However, after its late December listing on Binance at $0.02357, the pair has taken a hammering, falling nearly 1000% to trade at $0.00394.
Spell Token latest news
Spell's downturn was a combination of the token's listing in what was, in retrospect, not a good listing time (when Omicron was already causing a considerable market selloff). Also, the token's unique selling proposition did very little to spark new investor interest. However, the selling pressure has eased off, as the downtrend has given way to a period of consolidation. The pair now trades between the recent support at 0.00332 and the ceiling formed by the 0.00510 resistance barrier (28 February 2022 high).
There are still no bullish triggers for the Spell token, making the recent price uptick a potential snare for new buyers. However, if the data from WhaleStats is to be believed, then we could see a short-term upside push on the token. WhaleStats identified the Spell token among the top 10 most bought/sold tokens in the last 48 hours with a volume of 10.56million tokens. WhaleStats also indicates that the most traded token at the time remains ApeCoin, which gathered interest when a tweet said to be from TIME magazine announced it would accept Apecoin for digital subscriptions soon.
Spell is built on the Abracadabra.money backbone. The 8th improvement protocol has just been released. This improvement protocol comes with an update on the Abracadabra fee distribution that features the new mSpell staking pools now up for voting. Voting on the AIP#8 concludes today. This development is not expected to impact the price action on the SPELL/USDT pair.
Spell Token Price Prediction
The current price action is more of a rally within a downtrend. Therefore, the expectation is that a touch of the price activity on 0.00510 or even 0.00764 will be met with rejection, leading to a pullback that ultimately takes out the 0.00332 price floor.
However, a break above the 10 February high at 0.00764 leads to a further upside move towards 0.00976. This move could attract more demand on Spell, with an advance targeting 0.01162 or 0.01399 if the bulls get more ambitious.
SPELL/USDT: Daily Chart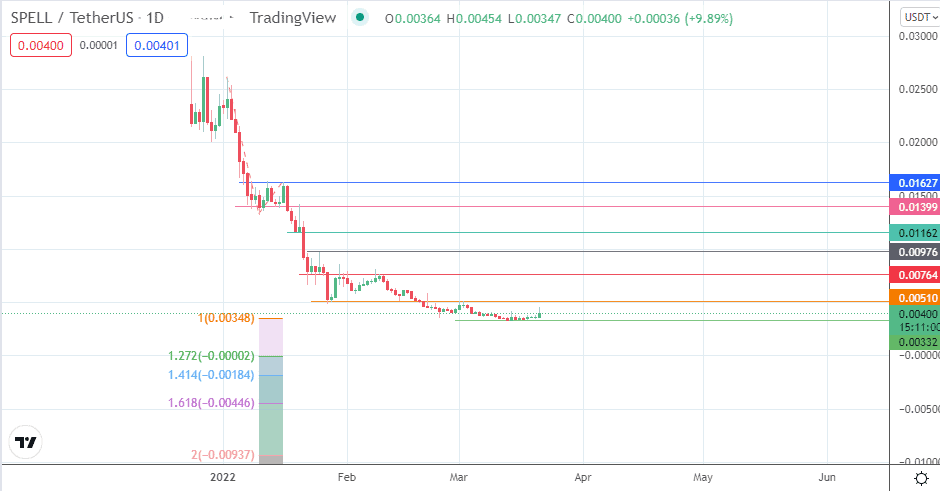 Follow Eno on Twitter.