The Solana price ran into overhead selling on Monday as it attempted to clear the all-time high, which may signal a bearish double-top. Solana (SOL) is slightly softer this morning at $196.50 (-1.70%), although +38.7% in October and a staggering +14,400% year-to-date. The impressive price action has lifted the total value of all SOL tokens in circulation to $61.7 billion. As a result, Solana has flipped Ripple XRP) to become the 6th-largest cryptocurrency.
Solana's low transaction fees and scalability have cemented its place as the biggest threat to Ethereum's crown. The network is also attracting capital at an astonishing rate and according to Defillama has more than $13 billion in Total value Locked Assets (TVL) on its chain. Furthermore, Solana is becoming an increasingly popular marketplace for Non-Fungible Tokens (NFT). Nonetheless, in my opinion, the current valuation appears frothy. Furthermore, the recent explosion in altcoins is similar to earlier in the year. Firstly, when Bitcoin started to roll over in April, capital rushed into lower-tier coins, creating huge uplift. Altcoins continued to surge through the first two weeks in May, even as BTC lost ground. Eventually, the bubble popped in May and the whole complex was wiped out in two days of furious selling. This is not to suggest we are approaching something similar, just a reminder that prices sometimes go down as well.
SOL Price Forecast
The daily chart shows the Solana price reached $222.38 on Monday, just $1 above the previous record. As a result, the price has formed an almost perfect double-top formation. As long as the double-top stays in place, Solana is vulnerable to heading lower. An obvious target for the bears is the 50-day moving average at $162. The chart shows the 50-DMA has been a good level of support in this run higher. However, considering the magnitude of the rally, an argument can be made for SOL to drop to the 100-DMA at $113.
My opinion is that Solana will eventually test the 50-day average, and possibly the 100. However, this bearish view relies on the double-top holding. Therefore a close above $222.28 invalidates this thesis.
Solana Price Prediction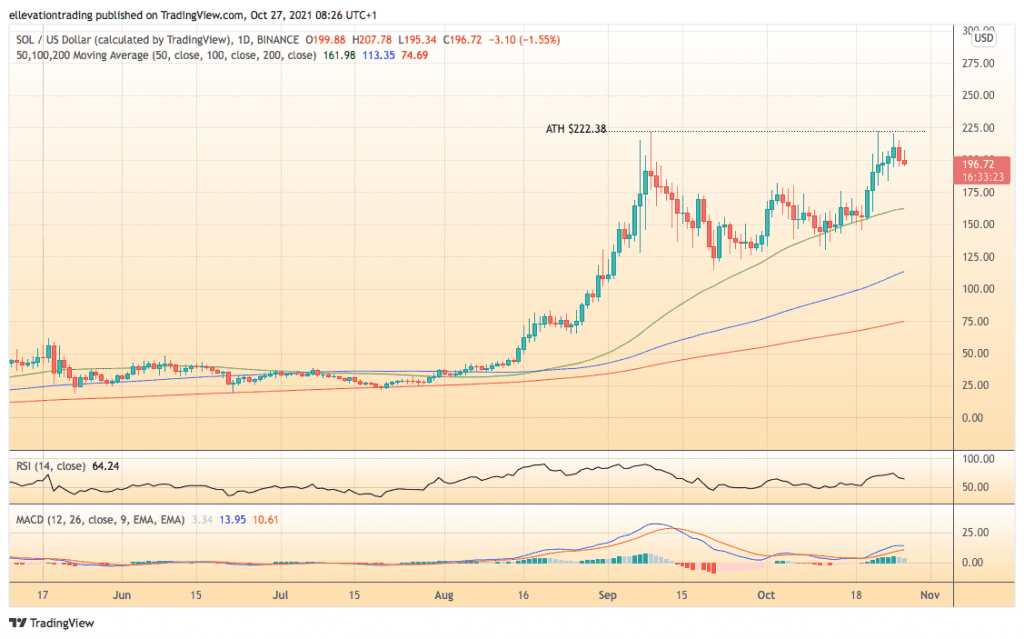 For more market insights, follow Elliott on Twitter.