My previous LON: PHE forecast stands invalidated as the Powerhouse Energy shares tanked very hard in August. The shares have plunged another 10.29% in September as the stock market sell-off intensified. On Tuesday, the stock of the futuristic tech firm opened lower, but the candle turned green as the day progressed.
At the time of writing, the shares were down 2.3% since their previous closing price. The decrease in volatility comes as a surprise as the stock remained unmoved even on the release of the firm's H1 results. Usually, the volatility increases prior to or after the release of financial results.
On a higher timeframe, the shares of the sustainable hydrogen company are experiencing an intense downtrend. The stock has been down 52% on a YTD basis after a strong surge at the start of 2023. A reversal seems to be quite far away as the FTSE 100 index is really struggling to rise above the 7,700 points level.
On Thursday, 7th September, Powerhouse Energy released its H1 results. The results showed nil revenues compared to £353,000 during the first half of 2022. Since then, the Powerhouse Energy shares have plunged more than 10%.
PHE Secures Waster Material Treatment Patent
In one of the most recent developments, Powerhouse Energy has received a nod for the European patent for the treatment of the waste material. The patent involves heating of the waste within the Thermal Conversion Chamber.
In other news, Powerhouse CEO Keith Riley had to step down recently due to personal reasons. This also impacted the investor confidence in the stock, which was already experiencing multiple headwinds.
Powerhouse Energy Share Price Outlook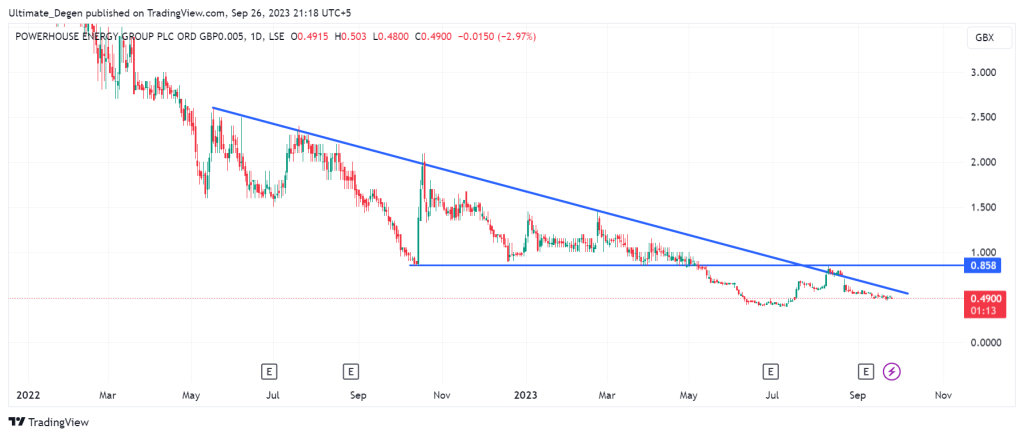 Despite a sideways price action in the last couple of weeks, the outlook on the daily and weekly chart remains bearish. It seems as if the bulls have capitulated after the breakdown below 0.85p. Since then, Powerhouse Energy share price has maintained a very bearish outlook, as there hasn't been any buying pressure on the price at all.