The Rivian stock price has lost its early momentum as its "honeymoon" as a publicly-traded company fades. The stock is trading at $66.29, about 63% below its all-time high. As a result, the company's total market capitalization has dropped to about $59.9 billion. At its peak, Rivian was valued at more than $116 billion, making it bigger than companies like Ford and General Motors, which sell millions of cars every day.
Rivian fall from grace
Rivian is an electric vehicle (EV) company that seeks to become a leading challenger to Tesla and other companies like Ford, Toyota, and Volkswagen. The firm went public in November 2021 as it sold 143 million shares. Shortly after going public, the stock soared to an all-time high of $178, which made it one of the biggest automakers in the world.
However, the gains were short-lived as the Rivian stock price prediction started dropping. Ultimately, it reached an all-time low of $50 in January, meaning investors had lost more than $50 billion. 
Rivian was not alone. Other EV stocks have also been in a strong bearish trend in the past few months. For example, the Tesla stock price has crashed by more than 25% from its highest level in October. Similarly, Nio stock price has retreated by 42% from its October high.
Other companies like Xpeng, Li Auto, Arrival, and Fisker have all dropped by double-digits. The same trend has happened among companies that provide EV products like charging stations and batteries. For example, the Chargepoint stock has dropped by 47% from its all-time high, while QuantumScape has declined by 60%.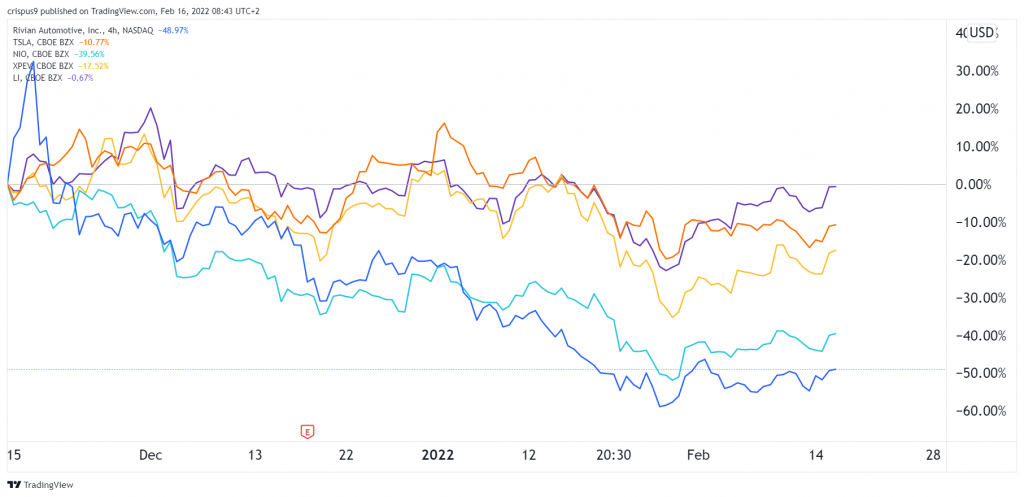 Why RIVN stock has crashed
There are many reasons why the RIVN stock price has collapsed in the past few months. First, investors have concerns that the company's valuation was significantly stretched. They were baffled that Rivian, a company that had never sold a car, was valued more than Ford.
Second, the shares have declined because of the lingering worries about the Federal Reserve. The Fed has hinted that it will embrace a more hawkish tone going forward in its battle against inflation. As a result, investors have dumped EV stocks as they move towards value.
As shown below, Rivian has lagged the performance of traditional companies like Ford, Toyota, General Motors, and Volkswagen. For example, the Ford stock price has risen by more than 60% in the past 12 months.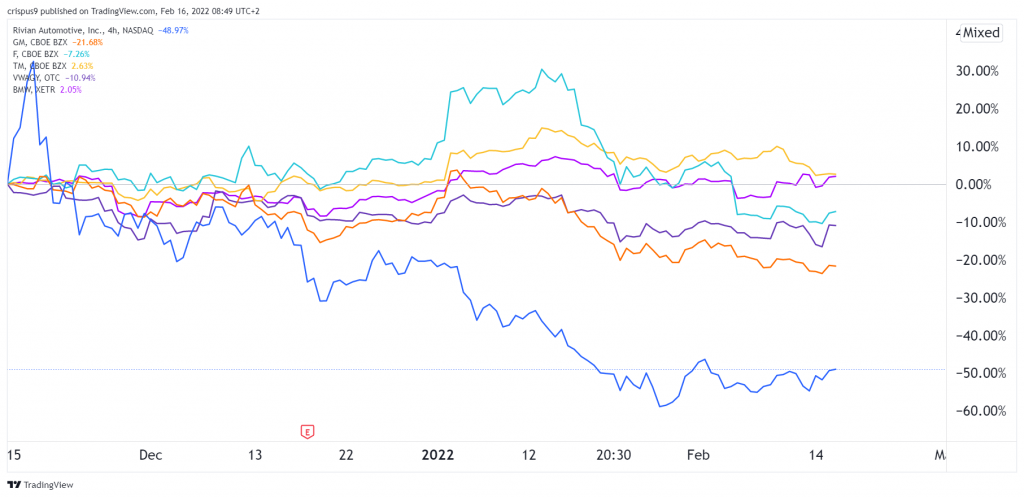 Third, the Rivian share price has retreated as investors forecast the company's long path to get to profitability. Since it has had no meaningful sales, Rivian has been reporting losses since it was established. It lost $458 million in Q3, and analysts expect that losses will keep rising.
There are other reasons why the Rivian stock price has remained under pressure. For example, investors expect more dilution in the future since they will need to raise cash. In addition, there are fears of the rising competition in its industry and the ongoing chip shortage.
Is Rivian stock overvalued?
Like Tesla has proven, it is a bit difficult to estimate whether a company like Rivian is overvalued or not. For example, using all metrics, it is easy to say that a company like Tesla is highly overvalued. For one, it has a market capitalization of $953 billion, making it more valuable than all other auto companies combined. This is although Tesla sells just a small number of cars every year.
There are several ways to assess whether Rivian is overvalued or not. First, we can look at the current state of the company. In its first earnings call, the company said it had a net pre-orders of 71,000. If we assume that the average price of a Rivian truck is $70,000, then we can assume that the value of its pre-orders is about $4.9 billion.
While the company expects a 1 million production rate per year by 2030, it has a long way to achieve that. For one, it has been producing less than ten vehicles per day, meaning that it will take a few years before it fulfils these orders.
Another way to look at whether Rivian stock is overvalued is to look at Ford, a company valued at $74 billion. Ford is a worthy competitor to Rivian because of the success of its Lightning product that has more than 200k pre-orders. Therefore, it is either that Ford is undervalued or Rivian is overvalued.
Is Rivian a good investment?
Is Rivian the next Tesla? That is a common question among investors. They wonder whether the company will achieve a premium valuation the way Tesla did one day.
While the Rivian stock price prediction valuation is not cheap, there are several reasons why the shares could keep rising in the future. For example, the company's cars are of high quality and have received solid reviews. 
Second, it is in an industry that is growing in the US. While the EV industry is getting ultra-competitive, there is space for more companies to compete in. Besides, trucks are the best-selling vehicles in the US.
Third, as a premium-truck company, the firm has more room to grow internationally. Most importantly, we have seen many EV companies bounce back after falling in the past. Remember a time when Nio almost went bankrupt?
Rivian stock price prediction 2022
The four-hour chart shows that the RIVN stock price has been attempting to bounce back in the past few weeks. It has risen by more than 31% from its lowest level this year. Along the way, the stock is below the key resistance at $71.50 and above the ascending trendline shown in blue. It has also moved below the 23.6% Fibonacci retracement level.
Therefore, with hedge funds buying the stock, a conservative estimate is that the stock will bounce back in 2022 and test the 50% retracement at $115. Our estimate is lower than the average analyst estimate at $132. The most optimistic estimate is that the shares will rise to $170, while the least optimistic is $84.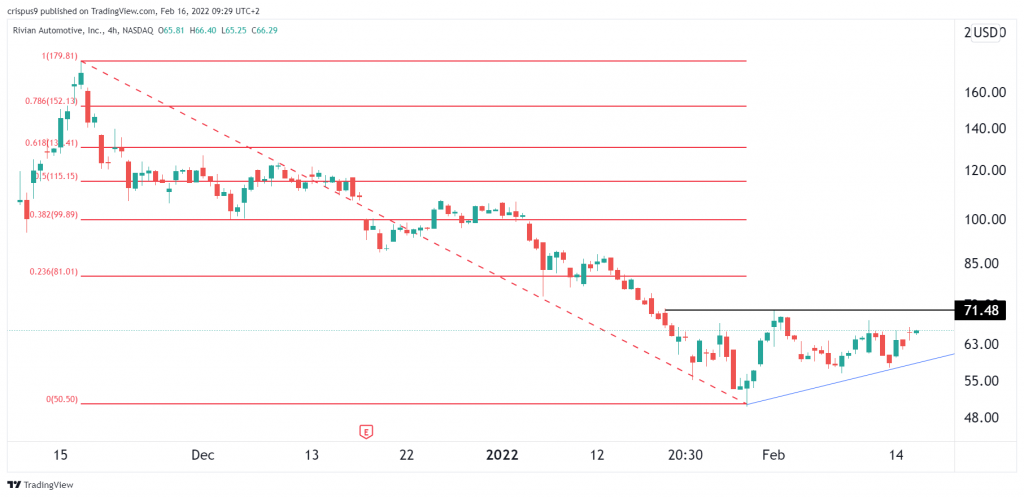 Summary
The Rivian stock price prediction has been struggling in the past few years as investors worry about the company's growth. While the company's share price is overvalued, we cannot rule out a situation where the shares bounce back later this year. If this happens, the next key resistance to watch will be at $115.