Ripple Price failed to record gains in last week's crypto boom
Court case with the SEC drags on.
The falling wedge could point towards a change in fortunes for the XRP/USD
The falling wedge pattern on the daily chart could provide some credence to bullish Ripple price predictions despite the XRP token being largely left out of last week's bullish move in many of the major altcoins.
Ripple price's positive correlation with Bitcoin prices continues to face opposition from the present legal wrangling the company is involved in with the US regulator. The case continues to linger as the court has now granted an expert discovery extension sought by the SEC. This extension is for two months.
The Ripple team appears none too pleased with the decision, noting that the extension will lead to Ripple markets being frozen further in the US. Ripple claims that almost all digital exchanges in the US have suspended trading on Ripple pairs, which has "severely" damaged the token's business and allowed Ethereum to overtake it as the second most valuable crypto.
Currently, investor focus is on other pairs which have the potential to deliver returns. Holders of the XRP token will now look to the pattern to deliver returns.
Ripple Price Prediction
The bounce on the lower border of the falling wedge pattern sets up the push towards the 1.12547 resistance level. A break of this price resistance automatically completes the wedge pattern's break, which opens the door for a measured move towards 1.24180. An extension of this move takes the recovery towards 1.32295.
The bullish outlook is negated on a price decline below 1.03890, which serves as immediate support. The breakdown of this area opens the door for the bears to target 0.92257. Below this level, the 10 August high/22 September low at 0.85560 serves as an additional target to the south before 0.80084 comes into the picture as a psychological price target of note.
Ripple (XRP/USD) Daily Chart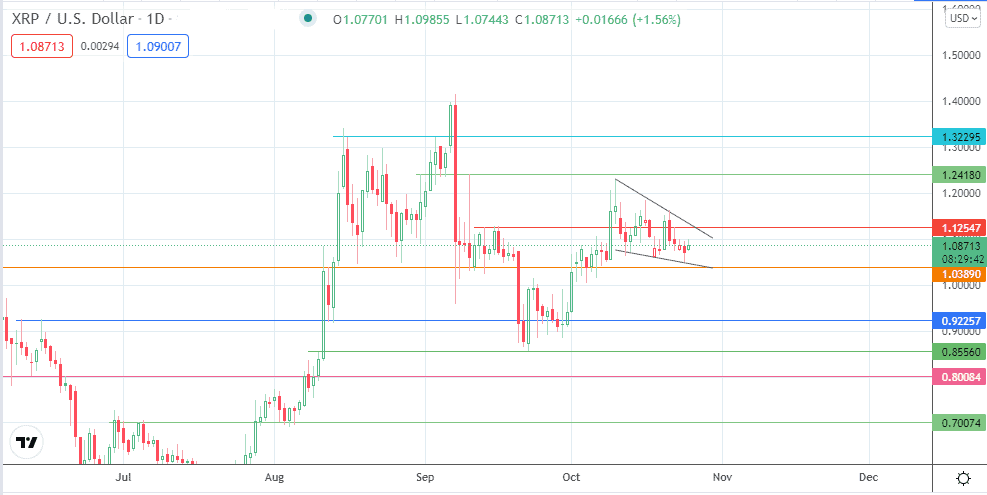 Follow Eno on Twitter.