The NZD/USD exchange rate crashed to the lowest level since July 19 as the US dollar index (DXY) surged. The pair dropped to a low of 0.6102, which was substantially lower than the August high of 0.6456.
US dollar index rally
The NZD to USD exchange rate crashed hard on Wednesday as investors reacted to the solid economic data from the United States. On Tuesday, numbers by the Conference Board revealed that the country's consumer confidence rose sharply in August. Precisely, it jumped from 95.3 in July to 103 in August. This was the first increase of confidence in three months.
Additional data showed that the American labor market remained strong as the number of open job vacancies soared to more than 11 million. These numbers came a few days before the US is scheduled to publish the latest non-farm payrolls data. Economists expect the data to show that the country's unemployment rate dropped to 3.4% in August.
The NZD/USD price has also retreated because of the hawkish Federal Reserve. Speaking at the Jackson Hole Symposium, Jerome Powell insisted that the bank will continue hiking interest rates in the coming months. In a similar statement on Tuesday, New York Fed's John Williams said that rates will remain at elevated levels even when inflation slips.
Meanwhile, business confidence in New Zealand continued to retreat in August. Data by ANZ revealed that confidence among the country's businesses slipped to -47.8 in August. This was a better performance than the previous -56.7.
NZD/USD forecast
The four-hour chart shows that the NZD/USD price has been in a strong bearish trend in the past few weeks. It has dropped from a high of 0.6470 to a low of 0.6140. As it dropped, it moved below the lower side of the ascending channel that is shown in green. It also moved below the 25-day and 50-day moving averages.
It seems like bears are in total control, meaning that the pair will continue falling. If this happens, the next key level to watch will be at 0.6050. A move above the resistance at 0.6200 will invalidate the bearish view.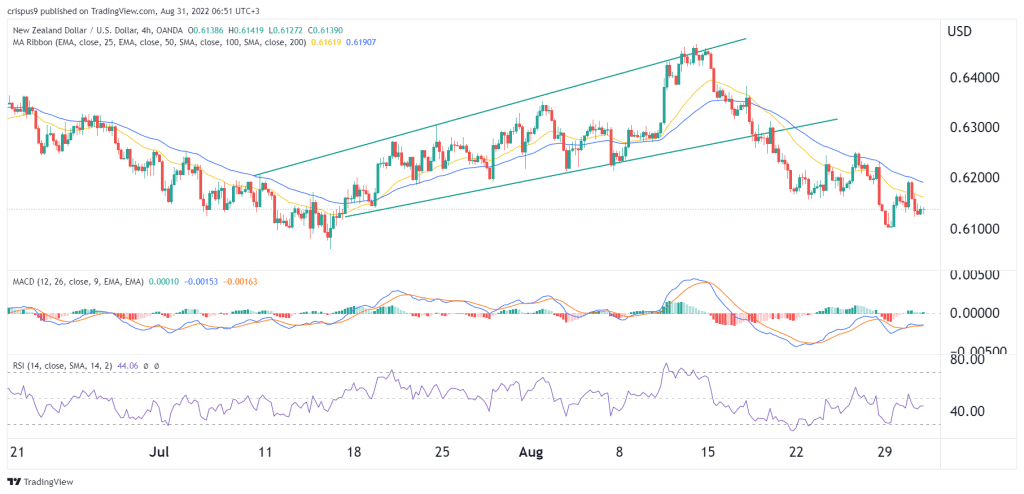 NZD to USD Support and Resistance Points
The bearish view has been verified by InvestingCube's S&R indicator. This is one of the most accurate indicators that has a success rate of over 85%. You can subscribe to it for signals on the NZD/USD and many more assets. The indicator has a bearish view on the NZD/USD with the support being at 0.600 and the resistance being at 0.6255.