The MATIC price forms a base above confluent support as traders build positions hoping that history repeats.
Polygon (MATIC) bounced nicely from the $1.50 support area over the weekend, gaining almost 25% in the last 48-hours to $1.81 this morning. The rebound has lifted Polygon's market cap back to $12.6 billion, which places MATIC behind Uniswap as the 19th most-valuable cryptocurrency.
Polygon has struggled in the last three weeks and trended lower for much of that time. The weakness is due to several factors, which have combined to erase $400 million from the cryptocurrency market in that time. Firstly, despite (hyper)inflation fears, the US Dollar has been firm. Furthermore, Indian officials lament a ban on privately held cryptocurrencies, potentially removing 1.4 billion future buyers from the crypto ecosystem. Not to forget, the emerging Omicron covid variant, which triggered the broad sell-off in risk-assets on Friday.
However, calm has returned in the last few days after experts downplayed the virus threat, helping the market turn higher. Subsequently, the MATIC price action is encouraging and suggests buyers are growing in confidence, which could forecast a higher valuation in the coming days.
Polygon Price Analysis
The daily chart shows Polygon is trending higher in a four-month uptrend. Above the trend, the 100-DMA at $1.512 and the 200-DMA at $1.407 reinforce the bull market.
In September, buyers stepped as the price approached the trend support, triggering a 130% rally into the October highs. Therefore, Polygon should continue to track higher if the price remains above the 200-DMA and trend support.
On that basis, my overall view is bullish, potentially targeting the October high of $2.310. However, I would consider a close below trend as bearish, invalidating the bullish outlook.
MATIC Price Chart (Daily)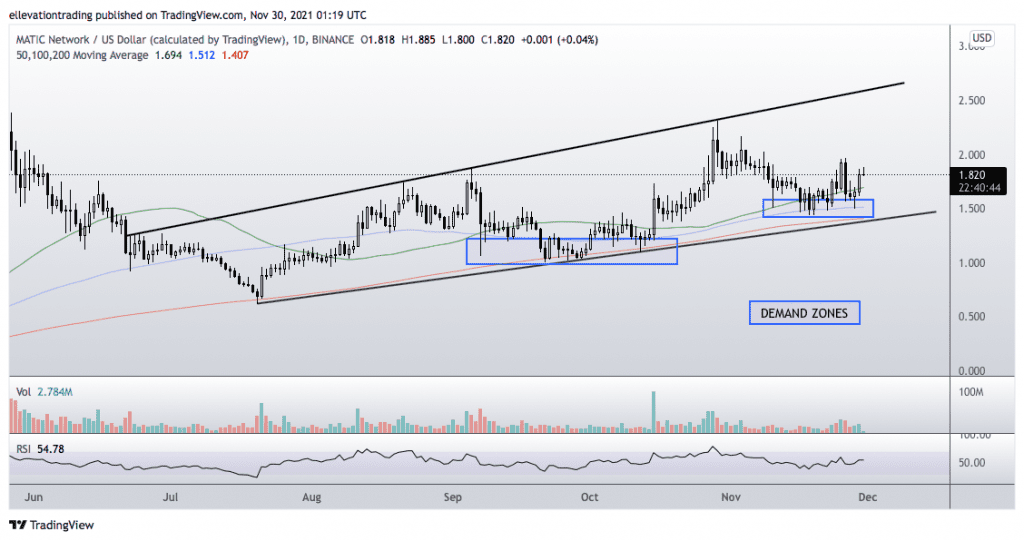 For more market insights, follow Elliott on Twitter.