Litecoin price has hovered between the range of $102 and $115 for the past six days, signaling a loss of volatility. In today's trading session, the prices have remained relatively stable, with only a loss of less than a percentage point of the value of Litecoin.
Recent Litecoin bearish move explained
The current bearish trend started on November 10, 2021. Since then, Litecoin has lost over 60 percent of its value in less than four months. In the daily chart below that compares Litecoin and Bitcoin, the area highlighted by yellow marks the beginning of the bearish move. A quick glance at the chart and you will see that Litecoin and Bitcoin prices began their bearish move around the same time.
The bitcoin price, which is represented by the orange line graph, however, did not drop as much as Litecoin. This is because Litecoin is positively correlated with Bitcoin and mostly follows its trend and not the other way. The graph also shows Bitcoin prices recovering. Based on this, I also expect the prices of Litecoin to start an upward move after the current loss of volatility.
Litecoin Vs. Bitcoin Chart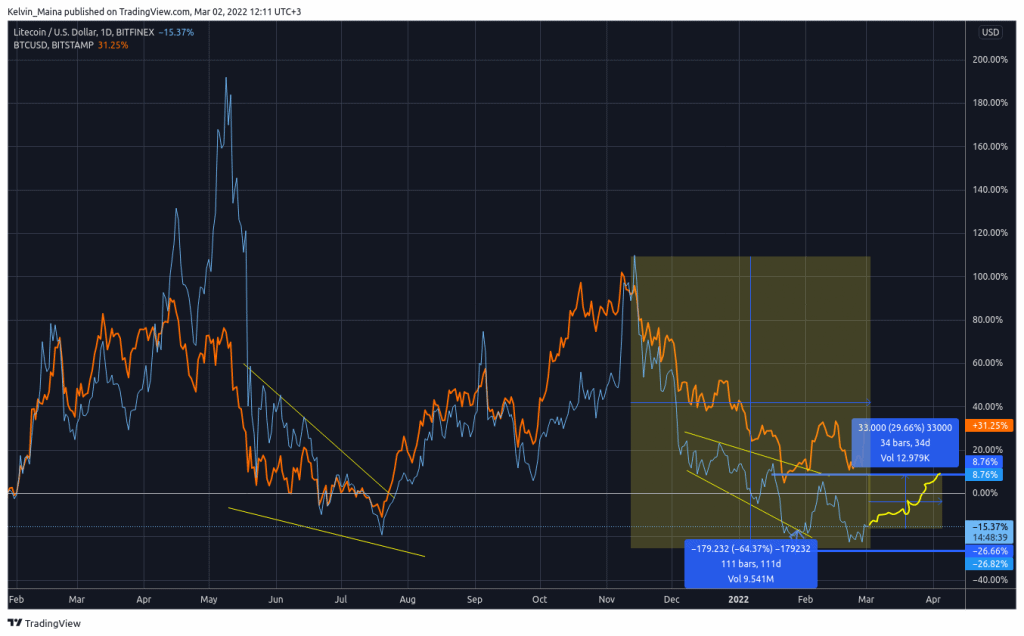 Litecoin Price Prediction
Litecoin's price is currently within a support and resistance level of $97 and $144 respectively. Today's trading session also marks a second consecutive day where Litecoin is losing value. Looking at the daily chart, the prices have also been trading sideways a week after they set a low of $92. My Litecoin price prediction expects the current bearish move to end soon.
The cryptocurrency market is recovering, as highlighted in the Litecoin Vs. Bitcoin section above, where Bitcoin has started to recover. This is supported by my support and resistance analysis, where prices failed to break the long-term support of $97. Although the prices are currently trading sideways, I expect the prices to hit the $144 resistance level in the coming days, as highlighted in the yellow region. However, if the prices continue trading sideways, my trading analysis will be invalidated. It will also mean the prices may continue dropping.
Litecoin Price Daily Chart