Semiconductor stocks collapsed in 2022 as the industry faced numerous headwinds like slow growth and oversupply issues. The closely watched SPDR Semiconductor ETF (XSD) crashed by almost 30% during the year. AMD stock price collapsed by over 53%, bringing its market cap to about $104 billion. On the other hand, Intel stock crashed by 47%, making it one of the worst Dow Jones constituents. In this Intel vs AMD comparison, we will look at the best stock to buy in 2023.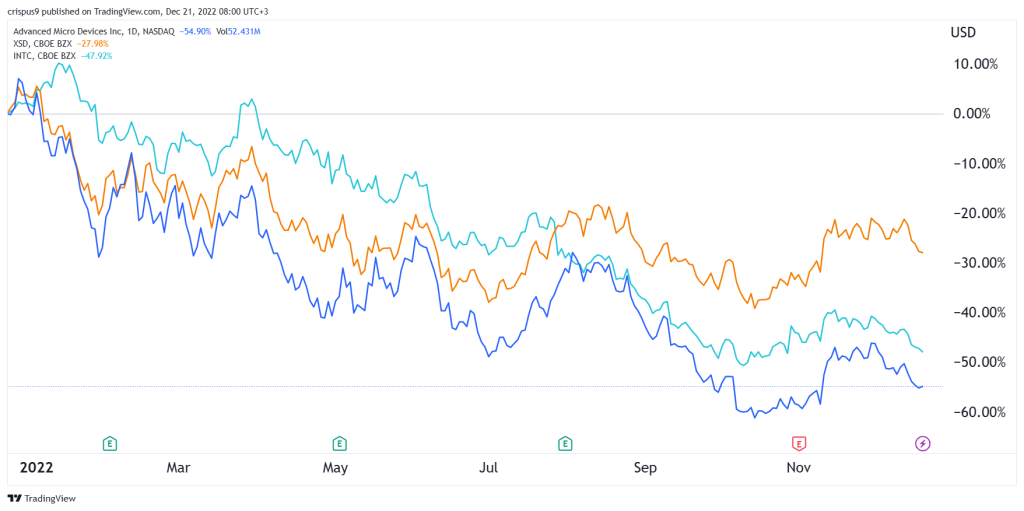 Why semiconductor stocks collapsed
2022 was a mixed year for the semiconductor industry. On a positive side, the American government passed the CHIPS act that allocated billions of dollars to chip companies build in the United States. The European Union also passed a similar bill in a bid to attract leading semiconductor manufacturers in the region.
Another positive thing that happened was that the supply chain challenges that existed during the pandemic started to ease. In fact, recent data show that demand has dropped so much that many shipping companies are slashing their fees.
On the negative side, companies like Intel and AMD had significant inventories as chip demand waned. Further, the increased investments in the industry mean that there could be oversupply issues in the coming years. In addition, increased overprotection could have an impact in the industry. In 2022, the US blocked chip companies from selling some of its products to China.
Most importantly, Intel and AMD suffered as chip demand waned. PC sales tumbled in 2022 while key industry drivers like gaming and cryptocurrencies waned. Gross and profitability margins also declined in 2023.
Intel vs AMD stock comparison
Intel and AMD stock prices crashed in 2022 as the industry dealt with the issues mentioned above. The underperformance could continue in 2023 as the chip industry continues to face numerous headwinds. Higher interest rates will also hamper the stocks. As a result, some analysts warn that Intel could cut its dividend in 2023.
On a positive side, 2023 could see lower inflationary pressure as the cost of doing business improves. Also, the PC upgrade cycle could start happening in the third or fourth quarter. In a recent report, it was estimated that PC sales will drop to 305 million in 2023 and then rebound in 2024. The market could start pricing a rebound in 2023.
I believe that AMD stock is a better buy than Intel in 2023. Its technology is significantly ahead of Intel and it has not committed to investing huge sums of money. Intel, on the other hand, has committed to invest billions of dollars, which presents a risk to its dividend payouts.