This article will take a shot at ICP price prediction, considering both the bullish and bearish scenarios. ICP coin is currently trading at $16.57, and it is more than 97% down from its all-time high of $700. ICP has been in a continuous downtrend ever since it launched. The price hit the all-time high of $700 on a listing day (10th May), but the euphoria was short-lived.
What does Internet Computer do?
As the name suggests, the Internet Computer is a decentralized network that aims to replace the global internet one day. While most crypto projects want to become the application layer of the internet, Internet Computer wants to become everything. ICP crypto is the native asset of Internet Computer decentralized network. The network consists of several data centres that are spread across the world. Before moving on to our ICP price prediction, let's understand its architecture.
Each data centre consists of a set of nodes and nodes from multiple data centres grouped to form subnets. These subnets can then act as blockchains. Unlike other smart contract platforms like Ethereum, Internet computer incorporates canisters. According to the team, these canisters work even better than smart contracts providing several new applications. According to the latest ICP news, there are currently 417 active Node machines and 38,536 canisters.
ICP Price Prediction
A closer look at the ICP chart shows that internet Computer crypto has been trading inside a falling wedge since September 2021. So far, the ICP coin price has hit the bottom of the wedge four times and bounced off the trendline. After the news of military action in Europe, cryptocurrencies faced an across-the-board bloodbath. This caused the ICP price to even dip below January 22 lows of $18. It went to $14.68 on February 24 2022. Although the ICP token price broke out of the falling wedge, it immediately recovered and closed inside the wedge.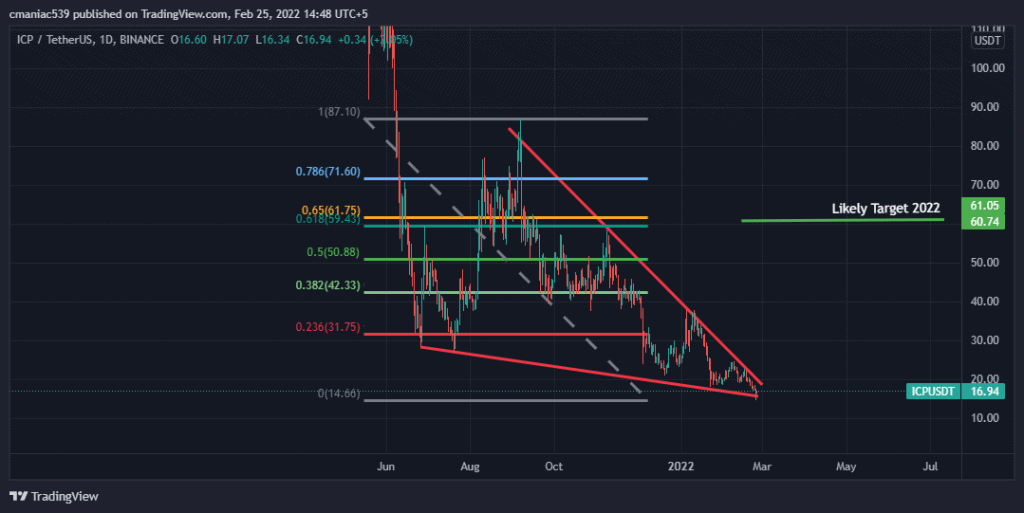 This bounce could be a sigh of relief for the bulls. A daily close outside the wedge would've put the price in unchartered bearish territory. Nevertheless, a falling wedge is a bullish pattern. For our bullish ICP price prediction to realize, all ICP coin needs is to break out of this falling wedge. This upward break after a reclaim of the $38 region could send the price to $60 in the midterm. This region is also the 0.618 Fib level that comes from September highs of $87 to the recent lows of $14.86. If the broader sentiment across the crypto markets is bullish by then, $87 could also become a valid target.