The EUR/USD exchange rate bounced back in the overnight session as investors waited for the latest ECB decision. It also rose ahead of the upcoming statement by Jerome Powell and as the VIX index retreated. The EUR to USD price rose to the parity level, which was higher than this week's low of 0.9868.
ECB interest rate decision
The EUR/USD price made a strong bullish comeback in the overnight session as the market refocused on the upcoming ECB decision. Analysts believe that the bank will continue with its interest rate hikes as it continued battling the soaring inflation. The median estimate is that the bank will hike by 0.75%, the biggest increase since 1999.
Still, there is a likelihood that the ECB will be cautious because of the vulnerable condition of the European economy. With gas prices surging and companies closing, analysts expect that there will be a strong recession in the coming months.
The EURUSD price will also react to a statement by Jerome Powell. In it, he is expected to reiterate that the Fed will continue tightening in the coming months. Economists are now pricing another 0.75% rate hike in its meeting this month. If this happens, it will mean that the bank has hiked rates by 300 basis points this year.
In a statement on Wednesday, Fed's Lael Brainard reiterated that the bank will keep hiking as long as it takes. She said: "So far, we have expeditiously raised the policy rate to the peak of the previous cycle, and the policy rate will need to rise further."
EUR/USD forecast
The EUR/USD bounced back in the overnight session as investors waited for the ECB decision. As it rose, the pair moved above the important resistance level at 0.9952, which was the lowest level on July 14. The pair has moved above the 25-day and 50-day moving averages and the descending trendline is shown in green.
Therefore, there is a likelihood that the pair will resume the bearish trend after the ECB decision. If this happens, the next logical level to watch will be 0.9800. A move above the resistance at 1.0050 will invalidate the bearish view.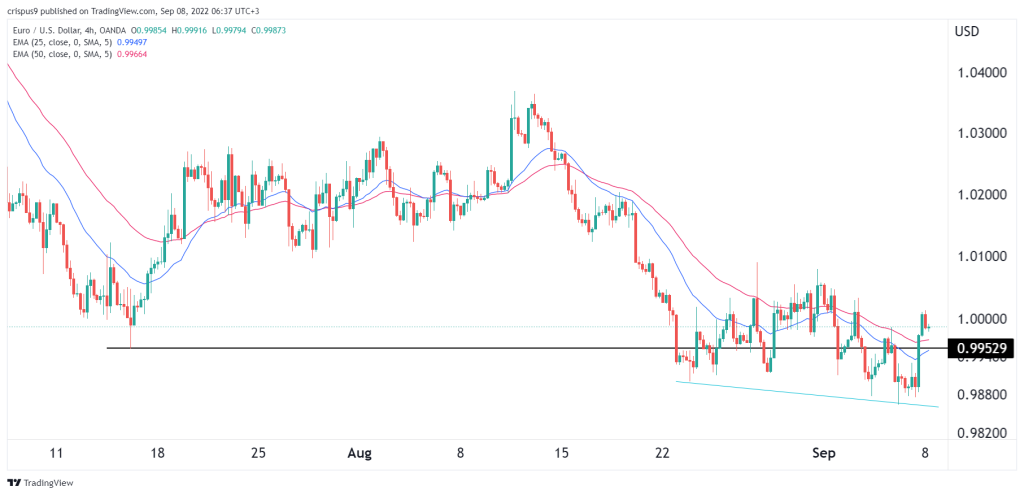 EUR to USD S&R levels
According to InvestingCube's S&R indicator, the EUR/USD has a bearish outlook. The support and resistance levels of this trade are 0.9800 and 1.0038. This is notable since the S&R is one of the most popular and accurate prediction indicators in the market.