The Dogecoin price slumped 17.5% as the cryptocurrency market succumbed to heavy liquidation. But despite recovering from the low, DOGE looks fragile. On Monday, the dog-themed coin was on the verge of breaking out to the upside. However, following yesterday's crypto crash, the Dogecoin price was on the verge of breaking down below major support before staging a late-day rebound. Although it's still too early for the bulls to claim victory, Dogecoin (DOGE/USD) is far from out of the woods.
Early in August, the Dogecoin price made its move on the upside, jumping more than 70% between the 7th and the 16th. However, after topping out $0.3517, DOGE struggled, spending the next three weeks trending lower. But in the first week of September, the coin started to higher and by Monday was testing the resistance of a downtrend in place from June. At the time, DOGE's market cap was back above $40 billion, cementing its place as the 8th-largest cryptocurrency. However, at yesterday's nadir of $0.2090, more than $8 billion of value had been wiped from Dogecoin. Furthermore, despite Dogecoin recovering the 200-day moving average, the rally has run aground at the 50 and 100-day gauges.
DOGE Price Forecast
The daily chart shows the Dogecoin price continues to grind broadly sideways in a narrowing pennant formation. The top end of the channel, which capped attempts to rally over the last few months, is now seen at $31.74.
Forming the lower edge of the formations a trend line at $0.2090. It was this uptrend that provided the catalyst for yesterday's bounce. Just above the trend line, the 200 DMA at $0.2275 lends its weight to the support. If the price fails to hold above the 200 DMA and the trend line, it will signal an end to the 2021 bull market and likely lead to significant long liquidation.
However, for now, the trend is intact. And as long as that stays the case, DOGE has a chance to recover. The first obstacle is the 100 DMA at $0.2632, followed by the 50-day at $0.2729. Successful clearance of the two moving averages should lead to another attempt at trend resistance, now seen at $0.3183. And above $0.3183, the outlook turns incredibly bullish. However, the early signs are that the downside will prevail. Although, DOGE has a habit of surprising.
Dogecoin Price Chart (Daily)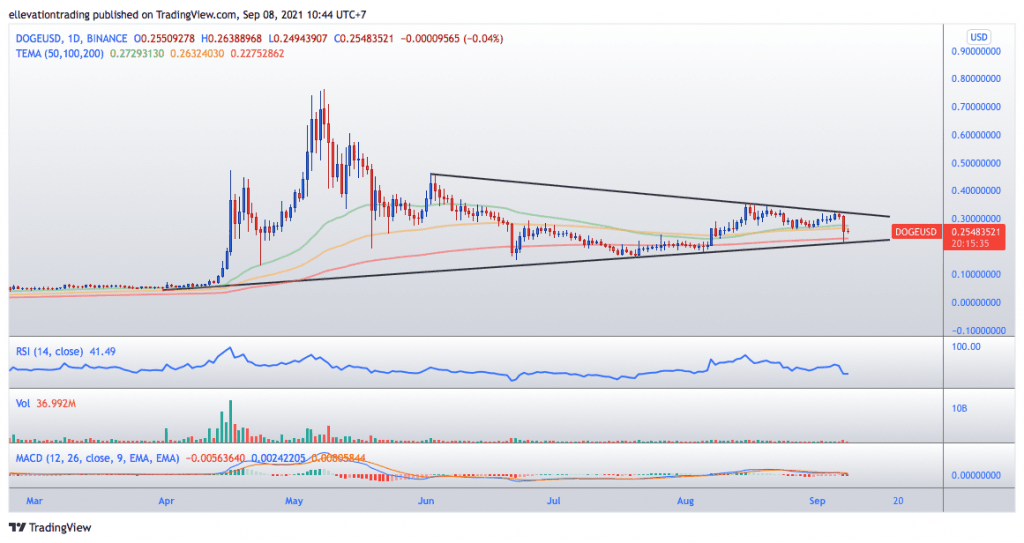 For more market insights, follow Elliott on Twitter.