Crude oil prices are trading lower this Monday, as a supply restoration from Libya capped prices on a day of thin trading. Libya's production was temporarily shuttered after pipeline repairs and an oilfield closure. Weaker output from Libya and a rise in demand had driven crude oil prices near 8-year highs following four consecutive weekly gains.
The crude oil market would look to this week's monthly market outlook reports from the International Energy Agency (IEA) and the Organization of Petroleum Exporting Countries (OPEC) for further direction in price. Both reports' demand and supply forecasts are part of the fundamentals that have moved markets in recent months.
Crude oil prices on the Brent benchmark are down 0.46% as of writing.
Technical Outlook for Brent Crude
At the start of the session, the intraday rise met resistance at the 86.72 price mark before a rejection and pullback sent the price into negative territory. The 85.32 support is the initial target for this pullback move before 83.08 and 81.91 enter the picture as additional downside targets.
On the other hand, a break of the 86.72 price mark sends Brent crude to 8-year highs, targeting 88.52 initially. 91.32 forms an additional target to the north if the bullish trend continues.
Brent Crude: Daily Chart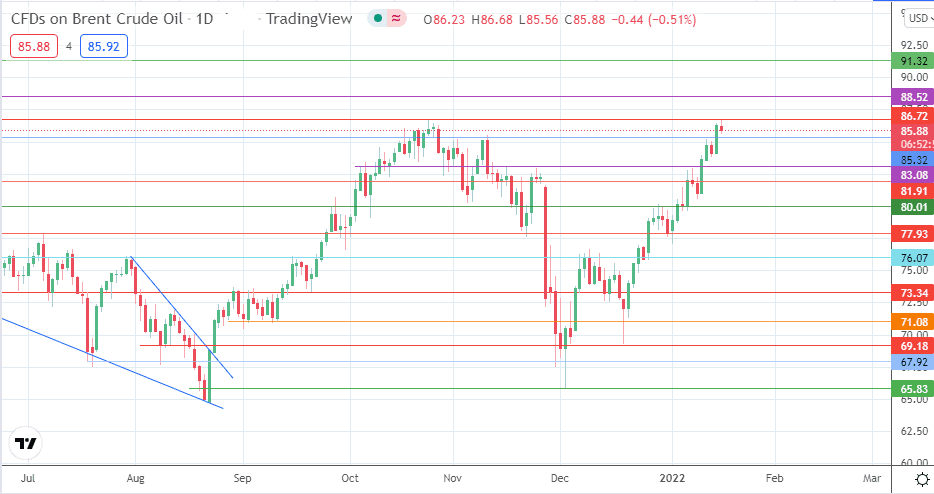 Follow Eno on Twitter.