After yesterday's epic squeeze to a new record, the Cosmos price is taking a step back, although it could turn into a full-blown correction. Even though the crypto market as a whole has shed $300 billion in valuation over the last few days, Cosmos (ATOM/USD) has joined Algorand (ALGO/USD) and Elrond (EGLD/USD) in the club of assets making new all-time highs. However, this rally is starting to look a little frothy and could be in danger of failing altogether.
Incredibly, following last Tuesday's heavy selling, which knocked 18% from the price of Bitcoin (BTC/USD), Cosmos jumped over 120% to this morning's record $37.03. As a result, ATOM has climbed the leaderboard to become the 28th most valuable cryptocurrency. Furthermore, its $7.25 billion market cap is within a whisker of lifting it above Ethereum Classic (ETC/USD) and Vechain (VET/USD). Although, if the Cosmos price fails to keep up the momentum, it may soon start to slide down the league table.
ATOM Price Forecast
The daily chart shows that yesterday, ATOM extended above the previous all-time high of $32.74, topping out this morning at $37.03. However, in the last few hours, the Cosmos price has retraced almost 6% and is subsequently approaching the former ATH.
If ATOM drops below $32.74, it could suggest a blow-off top and reversal. In this event, I believe the price could witness a significant drop. If that proves true, my first target on the downside is yesterday's low at $25.97, and following that, trend support at $21.20.
However, if the Cosmos price settles today above $32.74, it would confirm the breakout. Furthermore, if ATOM finishes higher than yesterday's $35.54 closing price, it would suggest even higher still. Therefore, the bearish view becomes invalid if today's daily candle closes above $32.74.
Cosmos Price Chart (daily)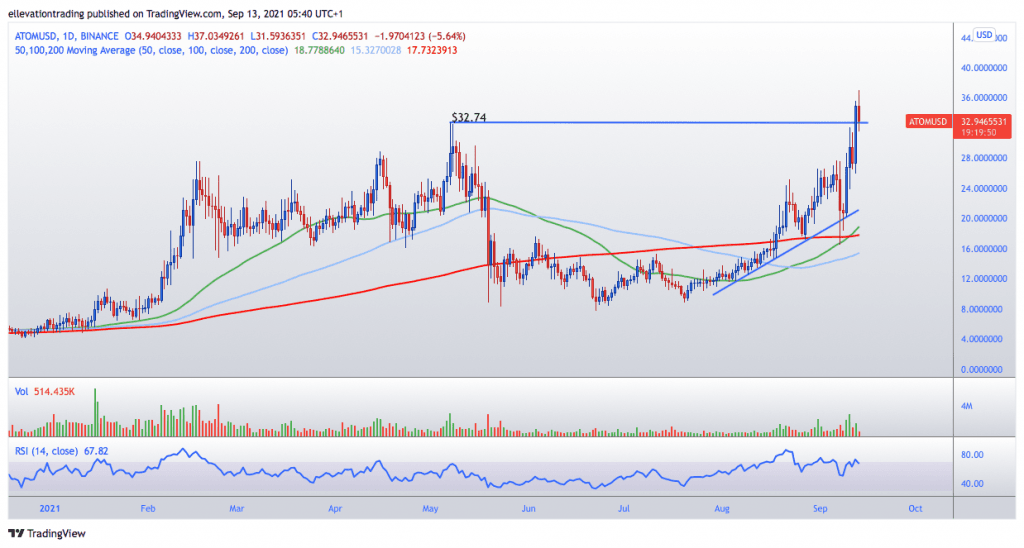 For more market insights, follow Elliott on Twitter.