The Cosmos price has massively underperformed this month and is currently facing a stiff test to avoid a violent flush lower. However, all is not lost, and as long as the ATOM token holds the support, it may regain its upwards trajectory.
Cosmos is treading water at $35.81 (-0.02%), down around 2% over the last seven days and up 470% year-to-date. There are currently 224.3 million ATOM tokens in circulation, with a total value of $8 billion. At the time of writing, Cosmos is the 30th-biggest cryptocurrency behind Ethereum Classic (ETC).
Considering ATOM gained 500% between July and September, it's no surprise the price is consolidating. However, it is surprising that Cosmos is drifting lower whilst the crypto market is trading at a record valuation. Of course, it could be that capital is rotating into assets that are yet to make their move. However, it could also indicate that investors feel Cosmos is presently over-priced.
ATOM price Analysis
The daily chart shows ATOM is testing trend-line support at $35.10 this morning. If the price fails to hold above $35.10 on a closing basis, a drop to the 100-DMA at $22.50 looks likely.
On the other hand, if the ATOM token holds support, it may signal the start of a reversal. In that event, successful clearance of the 50-Day Moving Average at $36.32 clears the path to trend-line resistance at $42.90.
In my opinion, as long as ATOM stays above $35.10, the $42.90 target looks achievable, offering an attractive set-up for a short-term speculative trade. Buying at the current price with a stop below $35.10 and a $42.90 target offers a favourable risk/reward.
Cosmos Price Chart (Daily)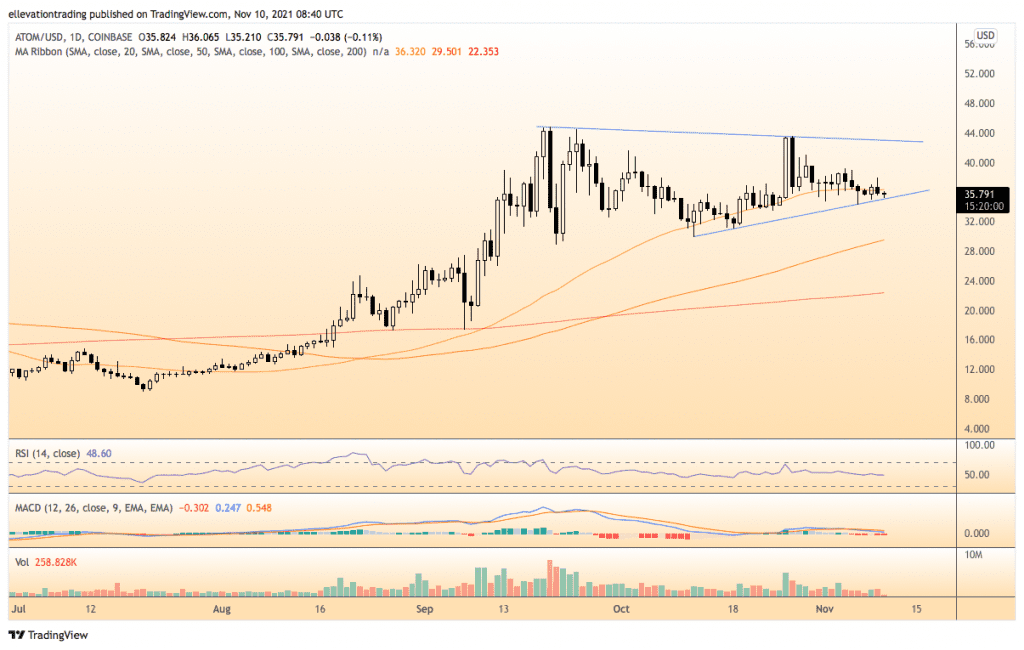 For more market insights, follow Elliott on Twitter.