The drop to record lows identified in the last Coinbase stock price prediction piece on this site has played out as expected. This comes as the recent decline in the cryptocurrency market continues to pile pressure on the stock of the Coinbase crypto exchange, leading to more bearish Coinbase stock price predictions.
Coinbase launched its stock on the Nasdaq exchange to ride on the bullish wave of the cryptocurrency market in 2021 before the Omicron-induced correction forced a steep selloff in the stock price. The recent decline seen in Bitcoin and other leading cryptos continues to spur additional selling on the stock. On 19 April, Oppenheimer lowered its price target on the stock, cutting it from $377 to $314 while retaining its outperform rating on COIN. 
This downgrade triggered the latest round of selling, with Coinbase suffering five days of losses in six days of trading. Attempts by the bulls to initiate recovery on Wednesday failed after a new round of selling in the crypto market kicked in, enabling sellers to come into the fray once more.
The Coinbase stock price prediction indicates a high potential for another gloomy day for the COIN stock; it is 3.62% lower in premarket trading. However, renewed buying in the crypto market could change the fortunes of the Coinbase stock price. What are the likely scenarios?
Coinbase Stock Price Prediction
Wednesday's decline has violated the support at the 127.2% Fibonacci extension level, identified earlier via a trace of the price swing of 9 February to 14/29 March 2022. The 114.66 price mark could be the next destination for the bears, being the 141.4% Fibonacci extension level. 101.02 (161.8% Fibonacci extension) could serve as additional support if the decline continues below 114.66.
Conversely, there is a chance of 136.10 (26 April high) serving as the primary barrier to the north if the bulls can initiate clearance of the 124.38 resistance mark. 144.82 (20 April high in role reversal) becomes the next upside target if the recovery move continues. Additional price barriers to the north are found at 157.12 (11 April high) and also at 172.30 (28 February and 21 March lows).
COIN: Daily Chart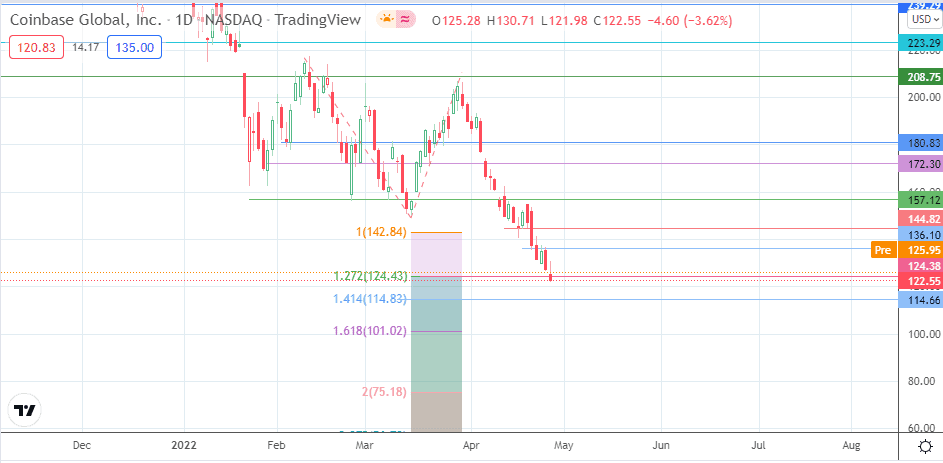 Follow Eno on Twitter.