Coinbase stock (NASDAQ: COIN) slumped after the bell after the crypto exchange announced a drop in revenue and lower trading volumes. COIN finished post-market trading at $312.50(-12.5%), erasing three weeks of gains and almost tagging its debut day low. As a result, the stock is -18% below its listing price and -27% below its all-time high.
Revenue: $1.31 bilion vs $1.57 billion estimate
Earnings Per Share: $1.62 vs $1.56
Monthly Transacting Users: 7.4m from 8.88m in Q2 (expected 7.09m)
Trading Volume: Fell to $327 billion from $462 billion in Q2
Assets on Platform: Increased from $180b to $255 billion
Whilst on balance, the data looks appears disappointing, some considerations could make the sell-off overdone. Firstly, the information is backwards-looking, and a lot has changed since. The cryptocurrency market struggled in the third quarter, with many assets trading at multi-month lows. However, in the last couple of days, Bitcoin (BTC), Ethereum (ETH) and many other cryptocurrencies have set new price records. Subsequently, the total value of the crypto market reached an all-time high of $3 trillion.
Coinbase stock is highly-correlated with cryptocurrencies, as we saw during the weakness over the summer and the recent rally. Therefore, COIN should continue to benefit from the crypto market's strength. Furthermore, the exchange is branching out into other areas like Non-Fungible Tokens (NFT) and prime brokerage, strengthening its position moving forward. Therefore, last nights price action may present an opportunity to scoop up stock at a healthy discount.
COIN Price Analysis
The daily chart shows that Coinbase stock was close to breaking above trend-line resistance at $365 in yesterday's session. On that basis, $365 is the number to watch on the upside.
Below the market, a series of highs in April around $305 provides the first level of support. Below that, the August peak of $294 and the September top of $280.61 offer additional cover. Considering the magnitude of last night's move and the uptick in crypto prices, scaling into a long position seems attractive. Therefore, if the price drops below $300, investors should consider taking advantage of the discount.
I maintain a bullish view of Coinbase stock, initially targeting trend resistance at $365. However, a decisive close below $280 clouds the technical picture and therefore invalidates the bullish call.
Coinbase Stock Price Chart (daily)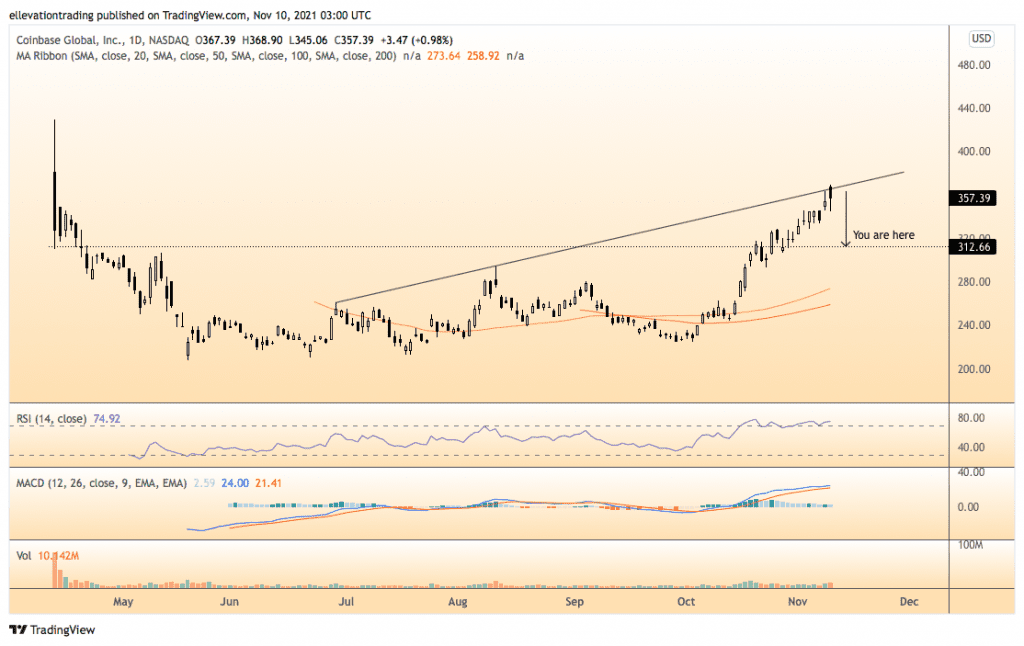 For more market insights, follow Elliott on Twitter.