Brent crude oil price has hit its yearly lows as economic concerns deepen amid the Silicon Valley Bank saga. On Wednesday, brent crude opened higher and experienced minor gains during the Asian session. However, the Brent crude price action turned negative as the UK session started.
At press time, Brent crude is trading at $76.35 after losing 1.62% for the day. This also means a new low for the price in 2023. The previous low was made in January at $77.77. In the coming days, the price can retest the December lows of $75. A breakdown below this level will be very bearish for global oil prices.
Brent Keeps Tumbling Despite Rising Chinese Demand
Brent crude oil price is shrugging off the rising demand in China. The latest economic data from China shows that economic activity accelerated in the first two months of the year. Data showed that retail sales increased by 3.5% during this tenure. This can be attributed to the end of lockdown restrictions in the 2nd biggest global economy.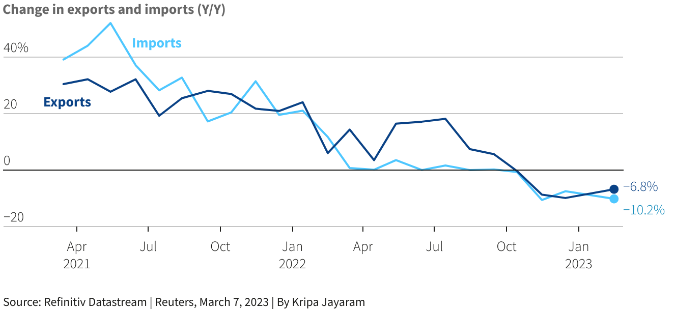 One reason for the sinking Brent oil price during the London session is the UK spring budget which is set to be announced today. The proposed tax changes will be affecting the UK industry in the near term. Another reason for the tumbling oil price today is the bounce in the DXY index, which has gained 0.96% till press time.
Brent Crude Oil Price Analysis
The Brent crude price chart shows a downtrend that started back in June 2022. Since then, the price has constantly been decreasing and now trading 40% below its 2022 highs. In 2023, the price rebounded strongly and surged to $89 in January. Nonetheless, it failed to break out of the downtrend and faced rejection from the upward trendline.
If the price breaks the $75 level, then Brent crude oil price prediction of $65 can be met very soon. Before this level, there may also be a small bounce from the $69.3 level. The ongoing correction is a result of the breakdown from the symmetrical wedge pattern, as shown on the chart.