The BNGO stock price has been in a strong sell-off in the past few months as investors worry about the company's performance. Bionano Genomics shares are trading at $1.93, which is the lowest it has been since December 2020. It has fallen by more than over 87% from its all-time high of $15. As a result, its market cap has crashed to about $558 million.
What is Bionano Genomics?
Bionano Genomics is a company in a fast-growing industry known as optical genome mapping (OGM). It is primarily in the genome analysis industry, which is getting more popular around the world. It sells both hardware and software to companies in the sector.
It main product is known as Saphyr, which is used to deliver OGM data to enable ultra-sensitive and specific detection of all classes of variation. It is used by hospitals, research firms, educational facilities, and other pharmaceutical companies mostly in the United States.
Bionano also sells chips, prep kits, and data solutions. In most cases, its solutions are used in discovery research in illnesses like cancer, genetic diseases, and genome assembly.
Investors and analysts believe that the genomic industry will keep rising in the coming years. This explains why Cathie Wood has invested significantly in the industry.
BNGO stock history
Bionano Genomics went public in 2018. It raised over $20.5 million from investors. Since then, the company has announced multiple capital raising in a bid to boost its research and development. Its most recent fundraising was in January 2021 when it raised over $88 million as it sold over 21 million shares. This means that the company has raised over $208 million.
On its Nasdaq IPO, the BNGO stock opened at about $6. It then started a slow downward trend that pushed the shares to an all-time low of 31 cents in 2020. The stock then started a strong bullish trend that saw it rise to over $15 in 2021 as it became a popular name among meme investors.
Between February 2021 and now, the Bionano share price has collapsed by almost 90%. As a result, its total market capitalization has collapsed from over $1 billion to about $500 million. The company has also become a penny stock. As shown below, it has underperformed the iShares Biotechnology ETF (IBB) by far.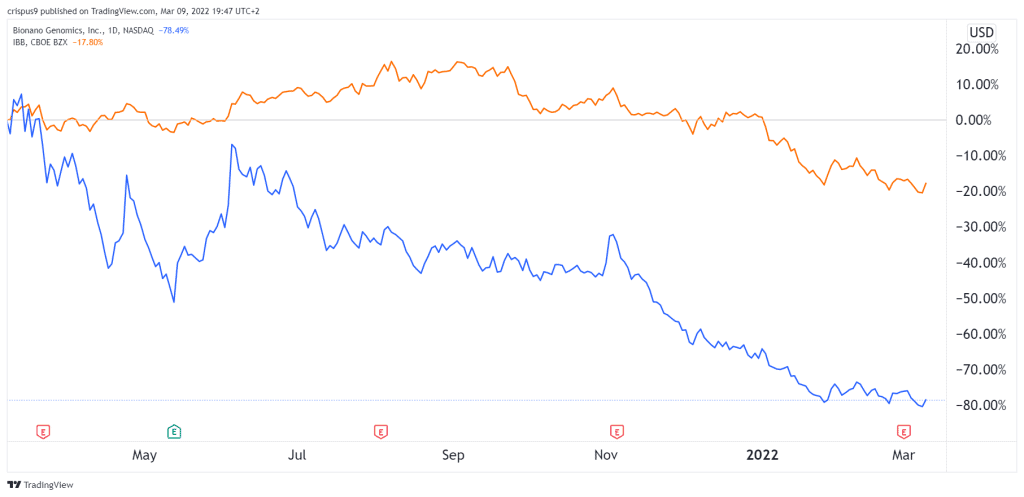 Bionano Genomics financial performance
Bionano Genomics is a highly risky company that has been in the red for a long time. The company's annual revenue in 2017 was over $8.8 million. It rose to over $18.5 million in 2021. At the same time, the company's losses have been adding up. Losses have risen from about $23 million in 2017 to more than $72 million in 2021.
In the most recent quarter, the company generated revenue of $6,3 million, which was better than the consensus estimates. Its loss per share was $0.08. The management reiterated that the company sold about 3,204 flow cells in the fourth quarter, which was a 30% year-on-year growth. As a result, the total installed base for the flow cells is about 12,500.
Looking at the balance sheet, Bionano Genomics has over $250 million in cash and short-term investments. This is notable since the firm had over $360 million in cash at the end of the fourth quarter because of the fundraising it made in Q1. This is a sign that the company is hemorrhaging money, meaning that it will likely sell stock again in the coming years. It does not have any debt.
Is Bionano Genomics a good investment?
A common question is whether the BNGO stock is a good investment. There are some reasons why it makes sense to invest in Bionano. First, the company has demonstrated that its business is growing. It made about $18 million in 2021, up by 111% from the same period in 2020. This growth was mostly because of the strong demand of its products and the integration of BioDiscovery.
Second, the company is in an industry that is seeing strong growth. For example, a report by Grandview Research showed that the industry's revenue was about $20.1 billion in 2020 and $23.5 billion in 2021. It expects that it will have a CAGR of about 15% to 2025. Therefore, there is a likelihood that Bionano will benefit from this growth.
However, there are many reasons why Bionano is not a good investment. The first obvious one is that the company's losses are rising at a rapid pace and there is no pathway to profitability in the near term.
Second, while the BNGO stock price has crashed by almost 90%, it is still overvalued. This is a company generating less than $20 million in annual sales that is valued at over $500 million.
Third, Bionano is burning cash at a fast pace, which means that the management will need to raise capital, which will lead to more dilution. As shown below, the company's outstanding shares have been in a strong upward trend. And this dilution will likely continue in years to come. Third, high-growth stocks tend to underperform in a period of high-interest rates.

BNGO stock price forecast
The daily chart shows that the BNGO share price has been in a deep sell-off in the past few months. As a result, the shares have moved below the 50-day and 100-day moving averages. It has also found a strong bottom at about $1.60. Oscillators like the Relative Strength Index and the Commodity Channel Index have also moved to the oversold level.
Therefore, the path of the least resistance for the Bionano share price is lower as bears target the next key support level at $1. A move below $1 cannot be ruled out in the coming months.