Bullish BNGO stock price forecasts have been enhanced by the bullish break of the 2.43 resistance mark. This move followed a strong showing by the bulls in Tuesday's trading session. It also tracked several days of lacklustre, low-volume trading in which the bears rebuffed several attempts to break the 2.43 resistance.
There has been no new fundamental trigger for the BNGO stock price after the genomics analysis company announced the results of an optical genome mapping study. That study had shown robust performance across diverse technical and analytical metrics and had suggested Bionano Genomics optical genomic mapping system as a potential candidate for use in cytogenetic testing for evaluating patients with suspected blood-related cancers.
The BNGO stock price is currently trading 5.58% higher after a slow start to the session. It gained 1.73% in the first hour of trading on Wednesday, but bullish momentum has picked up considerably as of writing. The move follows Tuesday's 8.79% jump. This Wednesday, the BNGO stock price forecast is for the bulls to dominate the trading session, which will lead to the second day of gains in a row. The market sentiment leans on the side of short-term bullishness.
BNGO Stock Price Forecast
The clearance of the resistance level at 2.43 has opened the gateway for the bulls to aim for the 3.03 resistance mark (12 January 2022 high). The combination of the descending trendline and the 4.32 resistance level constitute additional price barriers to the north that the bulls must overpower if the 5.05 and 6.35 resistance targets are to be achieved.
On the flip side, a potential rejection at 3.03, or a lack of bullish pressure at current levels, leave the 2.43 support point vulnerable. If a decline breaks down this support, 1.65 becomes an additional downside target. Below this level, 0.42 is a multi-month low that forms a new target to the south.
BNGO: Daily Chart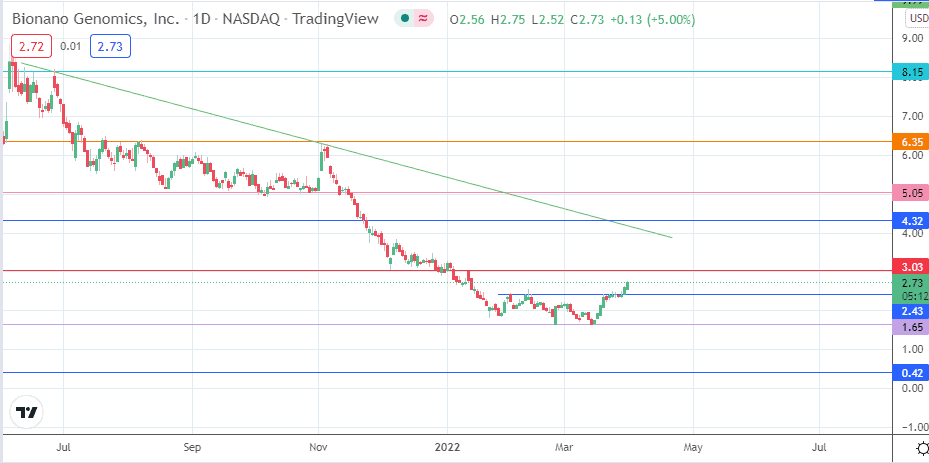 Follow Eno on Twitter.