Our Bitcoin price prediction is hanging by a thread as the markets see a massive wave of volatility before the CPI report. At the time of writing, the BTC price is trading at $22,996. On Tuesday, the traditional markets tumbled as most of the indices gave gap-down openings. Tech stocks also showed a bearish price action, closing in red at the day's end.
Despite the market volatility increase, Bitcoin is still maintaining the uptrend. After a positive start to the week, the price is now trading below the Monday lows of $23,154. An alarming sign for the bulls is the acceptance below Monday lows on lower timeframes.
US Bureau of Labour Statistics releases will be releasing the July CPI report today. This report has become very critical as it'll affect the decision of the September FOMC meeting. The prevailing uncertainty in the market has increased the speculation in both directions. Consequently, the Bitcoin price was rejected from the $24k level again. The reveal of CPI numbers might give the market a clear direction.
According to Bitcoin news today, Mike Novogratz has said that BTC is unlikely to recover to $30,000 anytime soon. The CEO of Galaxy Digital added that he expected the price to keep trading inside the $20,000 to $22,000 range for some more time before a major breakout.
Bitcoin Price Prediction
The BTC USD 4H chart shows that the price has still managed to retain its uptrend despite the prevailing volatility. A break of the trendline might plummet the price into the demand zone at $22,250-$21,900. This region also lies just close to the 200 Moving Average. It is very important for the price to hold this level, or the price might retest $20,000 once again.
The short-term Bitcoin price prediction would depend on the Consumer Price Index reveal. If the numbers indicated an increase in inflation, then the fear of another rate hike might trigger another bearish leg. However, if there are signs of controlled inflation, the ongoing market recovery will likely continue. In such a scenario, BTC price might hit our $26,400 target within a few weeks.
Bitcoin Daily Chart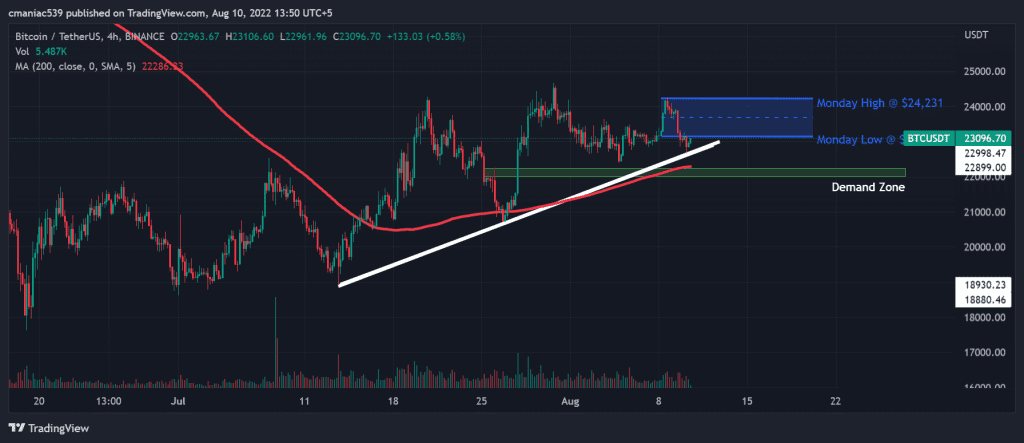 InvestingCube Premium S&R Levels
Subscribing to InvestinCube's Premium S&R Levels indicator can give you a clear edge in the market. In addition, this indicator keeps you updated on all the latest trade setups. For example, the indicator suggests buying Bitcoin below $23,498 with a stop loss of $22,646.
The targets of this long setup would be $24,170 and $24,606. The stop loss of this trade also matches with the break of trendline as indicated in our Bitcoin price prediction.