The Bitcoin price could rise ten-fold by 2026, according to Ark Invest supremo Cathie Wood who says institutions have been buying the dip. This endorsement follows the decision to allow the $5.7 billion ARK Next Generation Internet ETF to invest in Canadian Bitcoin funds.
Bitcoin (BTC/USD) was already seeing a bid yesterday after Microstrategy (NASDAQ: MSTR) announced it had purchased another $250m of BTC, bringing its total holding to over $5 billion. This is in line with CEO Michael Saylor's two-pronged approach for the business intelligence company to develop its software business whilst also building a monster Bitcoin position.
Speaking to CNBC host Andrew Ross Sorkin, Cathie Wood said she expects more companies to follow Microstrategy's approach and diversify their balance sheets into Bitcoin. Wood told Sorkin that she predicts growing institutional adoption could push the price of the number one crypto to astronomical levels.
"We believe that the price will be tenfold of where it is today," adding, "So instead of $45,000, over $500,000."
However, before getting too carried away, we should remember this is not the first time that Cathie Wood has forecast a half Million dollar valuation for Bitcoin. Woods first made here $500k call in November of 2020 when the Bitcoin price was trading around $12,000. Furthermore, she has continued to do so throughout the year, even during the washout in May. Therefore, this does not guarantee the price will react instantly. Although, it does lend strength to the longer-term bullish view.
BTC/USD Price Forecast
The daily chart shows the Bitcoin price has been experiencing a period of consolidation. Following last week's selloff, BTC has clung to the 200-day moving average at $45,878. However, this morning, BTC appears to have freed itself from the indicator and is trading at an eight-day high of $47.150.
Furthermore, the 50-day moving average at $45,949 is now higher than the 200-day. Technical Analysts refer to this as a 'golden cross', which indicates growing bullish momentum.
Should BTC finish the day above the 200 DMA, it has room to advance to last week's $52,800 high. Furthermore, above $52,800 , the $60,000-$65,000 range beckons. However, it's too early to suggest the worst is over. If the Bitcoin price fails to hold today's gains and closes below the 200 DMA, it could return to last week's $42,800 low. Furthermore, if BTC breaks below $42,800, it should leg lower than to test $40,000.
Bitcoin Price Chart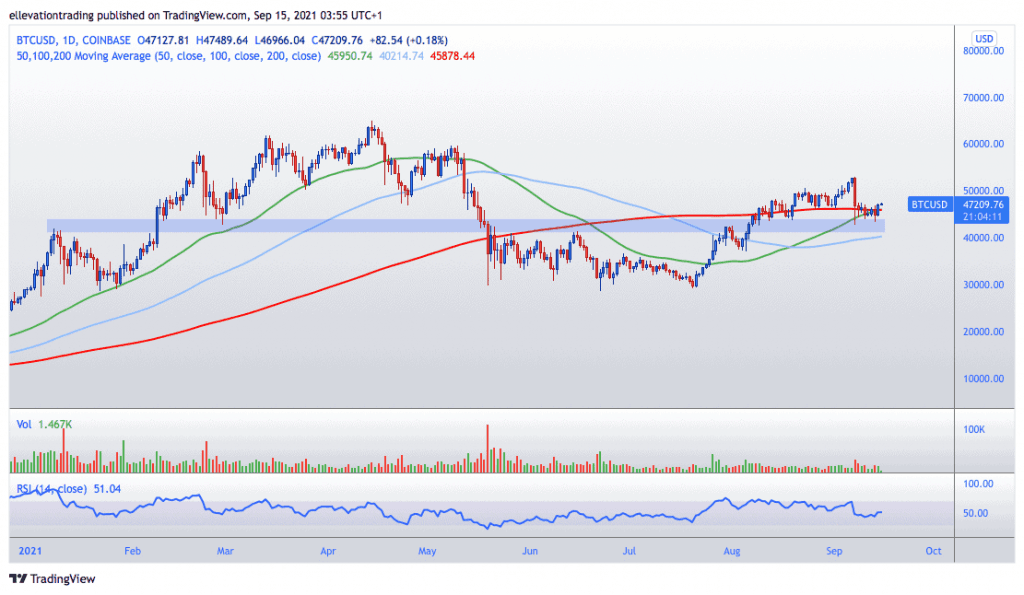 For more market insights, follow Elliott on Twitter.