The Binance Coin price is higher by 3% this morning as bears take profits ahead of the long term trend line support. Despite the positive price action today, Binance Coin (BNB) is down over 25% in September and less than half the price it was trading in May.
China's latest attack on cryptocurrencies is undoubtedly bearish for the industry as a whole. However, Binance, the worlds largest cryptocurrency exchange, has more to lose than most. Following last Friday's press release from the Peoples Bank of China's (PBoC) stating all crypto-related transactions are illegal, Binance immediately withdrew support for mainland clients. As a result, the exchange's native BNB token succumbed to selling, losing almost 20% to Sundays $316.5 low. However, the price has found support at a long term uptrend, which is holding for now.
BNB Price Forecast
The daily chart shows a rising trend line from February currently underpins the price at $315. Several times this year, the trend has reversed declines, leading to the Binance Coin recovering. In July, the last visit to the trend support resulted in BNB rallying 115% to the September $545 high. Therefore, the trend should be considered a critical level of support. A successful test of the trend would be constructive. However, until Binance Coin recovers the major moving averages, the trend is vulnerable.
The 100-day moving average at $367.5 is the first significant obstacle for the bulls. Following that, the crucial 200-day gauge at $395.6 offers the next level of resistance. If BNB advances beyond the 200 DMA, the 100-day at $425 should easily fall.
Binance Coin Price Chart (daily)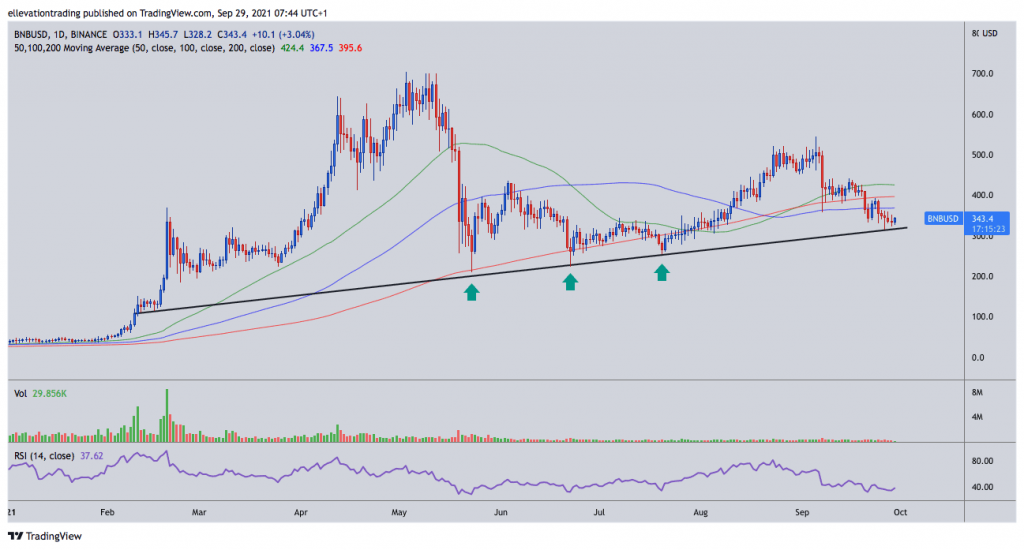 For more market insights, follow Elliott on Twitter.