The Barclays share price is hovering near its highest level in May 2018 as investors wait for the upcoming bank earnings season. The BARC stock is trading at 197p, which is about 175% above the lowest level in 2020.
Bank earnings kicks off
Barclays is a large global bank that operates in several key segments. Unlike other London-listed banks like NatWest and Lloyds, the bank makes a substantial amount of money internationally. It also has a relatively diversified business that is made up of consumer lending and trading.
Therefore, the Barclays share price is more sensitive to the earnings season that will start today when JP Morgan publishes its results. Other major banks that will release their results this week are US Bancorp, Citigroup, Morgan Stanley, and Goldman Sachs.
While Barclays itself will not publish its results, the shares will be in focus because of how interconnected the banking system is. Strong results by American banks will signal that Barclays also did well in the third quarter.
The Barclays share price is also rising as bets of high-interest rates in the UK rises. This is after the country published strong jobs numbers on Tuesday. The data showed that the country's unemployment rate slipped to 4.5% in August while the number of people filing for claimants fell.
Therefore, with inflation set to jump also, there is a high possibility that the Bank of England (BOE) will start hiking interest rates faster than expected. Higher rates in the UK are positive for a company like Barclays.
Barclays share price forecast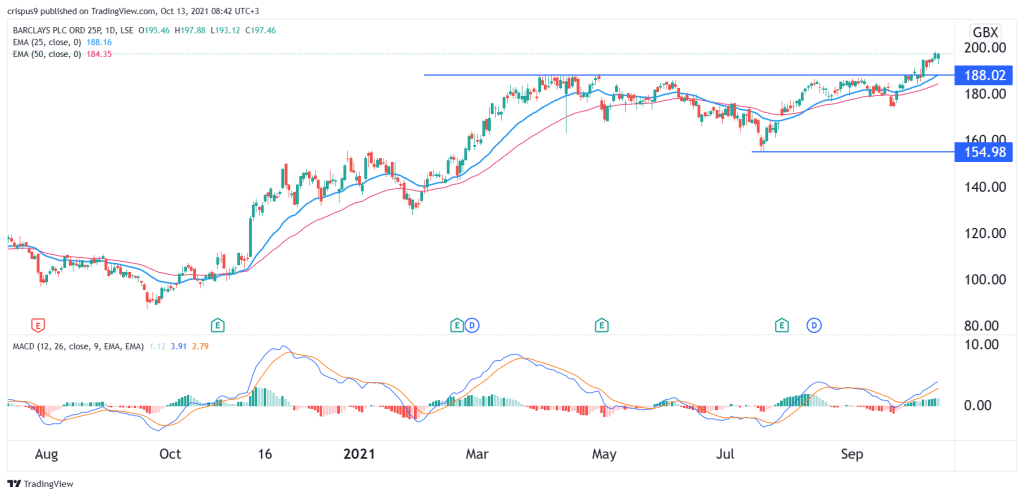 The daily chart shows that the BARC share price made a bullish breakout a few days ago. This happened after the shares moved above the key resistance level at 188p. It has also moved above the 25-day and 50-day moving averages while the MACD has maintained the bullish trend.
Therefore, the path of the least resistance for the Barclays share price is to the upside although a break and retest pattern is highly likely.