The AUD/USD price dropped to a key support level after the hawkish decision by the RBA and as commodity prices tumbled. As a result, the AUD to USD fell to a low of 0.6765, which was the lowest level on July 1st, It has now pulled back and is trading at 0.6800.
The Australian dollar declined sharply against the US dollar as the risk-on sentiment emerged. The decline coincided with the major sell-off in American equities like the Dow Jones, Russell 2000, and Nasdaq 100. Similarly, the S&P/ASX 200 index declined by more than 50 basis points on Wednesday morning.
The risk-off sentiment pushed the US dollar index to above $106. This performance is mostly because of the rising fears of a recession. Analysts now anticipate a major recession in the next few months.
The AUD/USD price crashed even as the Reserve Bank of Australia (RBA) made its second giant rate hike of the year. It increased rates by 0.50%, meaning it has hiked by 125 basis points this year alone. This is the most hawkish it has been in more than 30 years. And in a statement, the bank warned that it will deliver more hikes this year.
The AUD to USD price also retreated because of the performance of commodities. This year, the Bloomberg Commodity Index has tumbled by over 10% from its highest level. In addition, many Australian commodities like coal, copper, and iron ore have crashed as Russia boosts its discounts.
AUD/USD forecast
The four-hour chart shows that the AUDUSD price dropped to a low of 0.6762, which was the lowest point this month. It has formed what looks like a small double-bottom pattern. In price action analysis, a double-bottom is usually a bullish sign. The pair remains slightly below the 25-day and 50-day moving averages.
The pair will likely have a relief rally as buyers target the key resistance at 0.6850. Conversely, a drop below this week's low will invalidate the bullish view.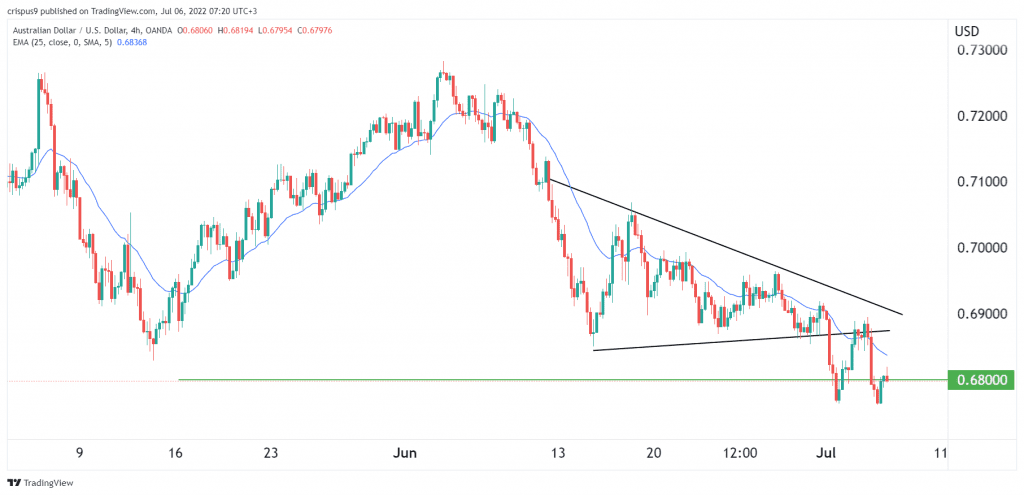 AUD to USD S&R levels
InvestingCube's S&R indicator is a highly intuitive tool that has delivered excellent results in the past few years. It has a success rate of over 80% and is used by thousands of traders every day. The indicator is also bullish on the AUD to USD pair. It expects that it will rise to 0.6916. The stop-loss for this trade is at 0.6750.