After the relatively strong Chinese sentiment data, the AUD/USD price moved sideways on Thursday morning. The AUD to USD exchange rate is trading at 0.6883, where it has been in the past few days. This price is about 5.53%, below the highest point this month.
Fed and RBA decisions ahead
After the latest manufacturing and services data from China, the Australian dollar remained in a consolidation phase. According to the Chinese government, the country's manufacturing PMI rose from 49.5 in May to 50.2 in June as the country started reopening. The non-manufacturing PMI rose to 54.7. This is good news for the Chinese economy and is a sign that businesses in key cities are reopening.
Chinese numbers are usually watched closely in Australia because of how inter-related the two countries are. China is the biggest buyer of Australian goods and services. Therefore, the Australian economy does well when China is growing.
The next key catalyst for the AUD/USD pair will be the upcoming US PCE data. Economists expect the data to show that US personal consumption expenditure remained at elevated levels in May. Core PCE is expected to have risen by 4.8% on a year-on-year basis. The US will also publish the latest personal income and personal spending data.
The numbers will come a day after the Federal Reserve chair confirmed that the bank will continue hiking interest rates in the coming months. Analysts expect the bank to hike by 0.75% or 0.50% in its July meeting.
Meanwhile, the AUD to USD will react to the upcoming interest rate decision by the Reserve Bank of Australia (RBA). The bank is expected to continue tightening its policy in a bid to fight the soaring inflation.
AUD/USD forecast
Turning to the four-hour chart, we see that the AUDUSD price has been in a consolidation phase recently. It has formed a symmetrical triangle pattern that is shown in black. It has also moved slightly below the 25-day and 50-day moving averages, while the Relative Strength Index (RSI) has moved to the neutral point at 50.
Therefore, the outlook is bearish due to the bearish pennant that is forming and the falling commodity prices. The next key level to watch will be at 0.6800, which is about 1.27% below the current level. A move above the resistance at 0.6950 will invalidate the bearish view.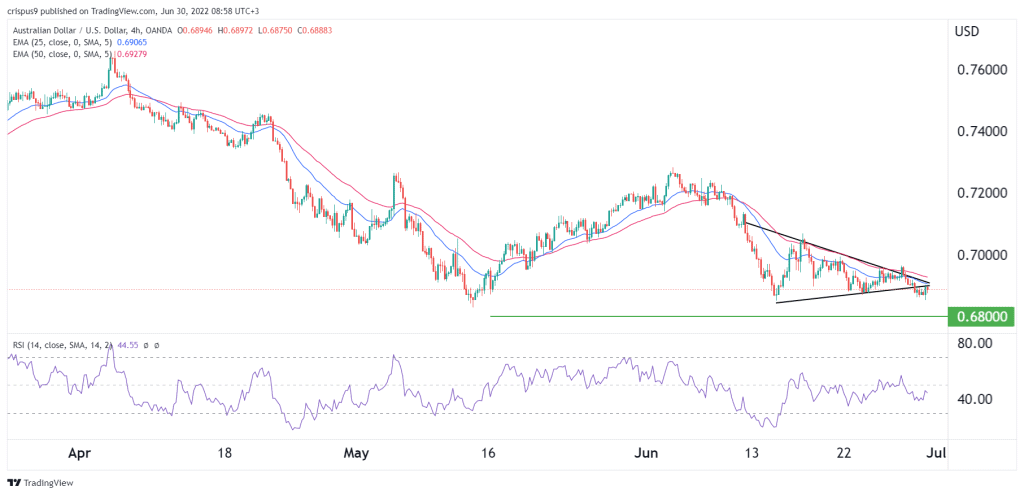 AUD to USD S&R levels
The AUDUSD price could see some upside in the short term, according to InvestingCube's S&R indicator. Its first resistance level is at 0.6942, followed by 0.6963. The stops of this outlook are at 0.6848 and 0.6800. InvestingCube's S&R is one of the most accurate bots you can use to day trade. Learn how to subscribe here.