The Arweave price is going against the grain and rallying as the broader market fades. But does the recovery have legs?
Arweave (AR) has added $2.50(+5%) on Friday, up around 40% from Mondays low after bouncing from a significant support level. However, the AR token is trading 45% below the November all-time high despite the bounce. Over the last four days, the price action has lifted Arweave's market cap back above $1.6 billion, ranking it the 75th most-valuable cryptocurrency behind Chiliz.
In my last report on Arweave, "Is it time to buy the AR crypto?" I highlighted the strong band of price support between $34.00 and $38.00. After entering the support zone on Monday, Arweave violently changed course, stringing together a four-day winning streak. As a result, the price has cleared trend line resistance and is approaching the next significant obstacle. However, the general market is weaker, which may cap the immediate upside. Bitcoin has rolled over this morning, reversing the post FOMC push towards $50k. BTC is has lost around 3.5% in the last 24-hours and appears likely to head lower still. In that event, AR may struggle to maintain a bullish trajectory.
AR Price Forecast
In isolation, the daily chart looks highly constructive. Thursday's close above trend resistance at $45.50 is encouraging momentum buying. If the Arweave price stays on the current course, it should extend towards the 100-Day Moving Average at $55.34.
I expect sellers to emerge scale-up from here if Bitcoin continues lower. Subsequently, I'm not convinced AR will clear the 100-DMA. In that event, the former trend resistance becomes the first support level.
I can make a bullish case above the 100-DMA and a bearish one below the trend. For that reason, my current stance is neutral, awaiting confirmation.
Arweave Price Chart (daily)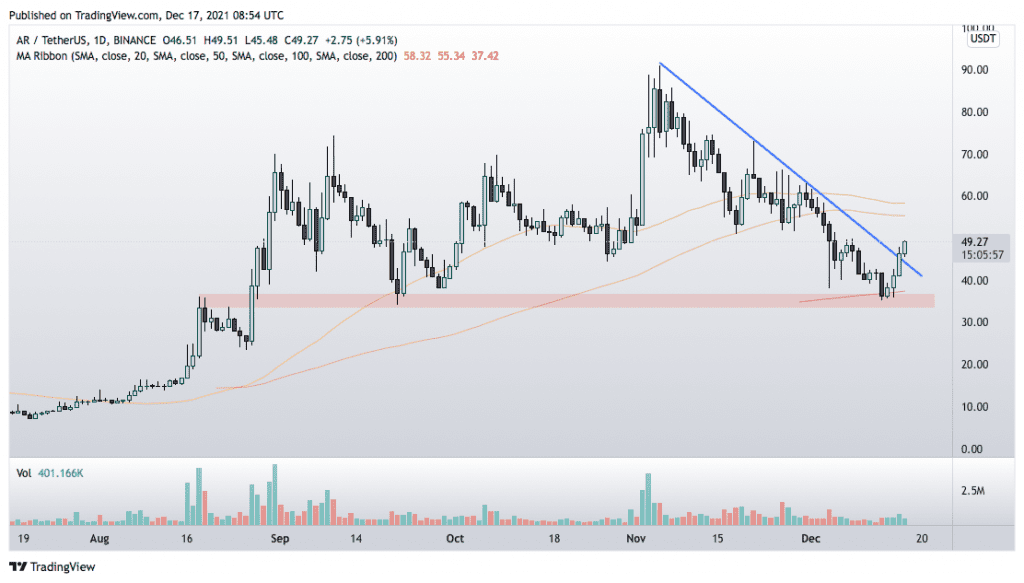 For more market insights, follow Elliott on Twitter.