This article breaks down the Arweave price action and questions the AR coin's short-term investment potential.
In the last five weeks of trading Arweave (AR) lost over half its value and currently trading close to a four-month low. In that time, the project's market cap has dropped from $2.8 billion to around $1.4b, ranking the AR coin as the 79th most-valuable cryptocurrency behind Dash. However, despite the poor performance recently, Arweave is up 450% from the July lows, meaning the coin was either massively undervalued then or ridiculously expensive now.
In my last Arweave article on December 3rd, I predicted a 30% correction was imminent. And within a day, the price was 27% lower at $38.00 before bouncing back to $50.00. However, the rebound is reversing, which leaves the AR coin vulnerable to another sharp drawdown. That's why, in my opinion, now is not the time to buy Arweave.
AR Price Forecast
The daily chart shows the Arweave price is approaching a band of support between $34.00 and $38.00. Taking the negative momentum into account, I expect the coin to trade lower into this area in the next few days. And depending on whether the support holds will decide AR's immediate fate.
If the price extends below the $34.00 support, it could drop into the $20.00-$22.00 range (June highs), around 55% below the current price.
On the other hand, if the support holds, the Arweave price should stabilise. However, the outlook is bearish until Arweave climbs above $52.00 (last week's breakdown level). On that basis, buying Arweave at the current price is extremely risky.
Arweave Price Chart (Daily)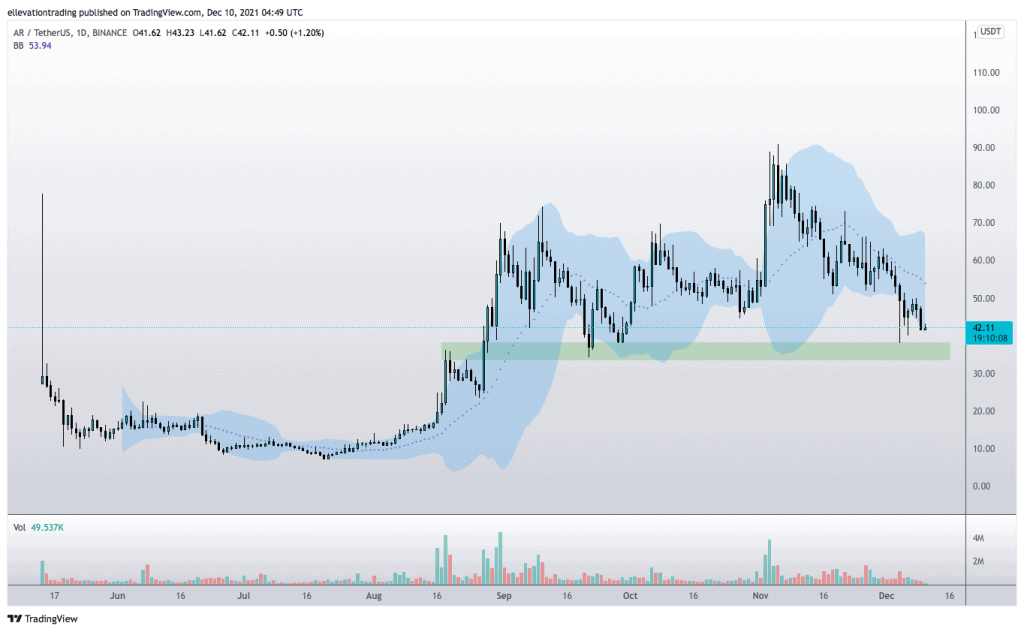 For more market insights, follow Elliott on Twitter.