The Arweave price has halved in the last month and now sits at a pivotal level, suggesting an explosive move could be imminent.
Arweave (AR) is slightly higher at $56.83 (+1.80%) on Friday, a seven-day loss of 4.4% and almost 47% below last months all-time high. Over the previous four weeks, Arweave's market cap has dropped from $2.9 billion to around $1.9, ranking it the 75th biggest cryptocurrency ahead of Dash.
Despite the recent pull-back, Arweave has performed incredibly in 2021, and the AR token is up 2,000% year-to-date. Furthermore, the price has seen similar-sized corrections several times before recovering over the last few months. However, in my opinion, Arweave is walking a tightrope at the current level, which may lead to substantial losses in the days ahead. On the plus side, if I'm wrong, it's likely to be in a big way.
AR Token Price Forecast
The daily chart shows Arweave is trading just above the 100-Day Moving Average at $56.40 and trend support at $54.60. Simply put, a close below the trendline is highly bearish, whilst remaining above it is bullish.
If the AR token ends the day below the trend, I expect an extension lower towards the 200 DMA at $35.45, around 37% below the current price. On the other hand, if the trend line holds, Arweave should advance to the November 21st high of $73.85, around 35% above the current price.
Although I am leaning towards the bearish option, either scenario could play out. Furthermore, until Arweave breaks down, the rising trend line and the 200-DMA are the dominant themes. On that basis, the bearish signal only activates if the daily close is below $54.60. In that event, a close back above the trend invalidates the thesis.
Arweave Price Chart (Daily)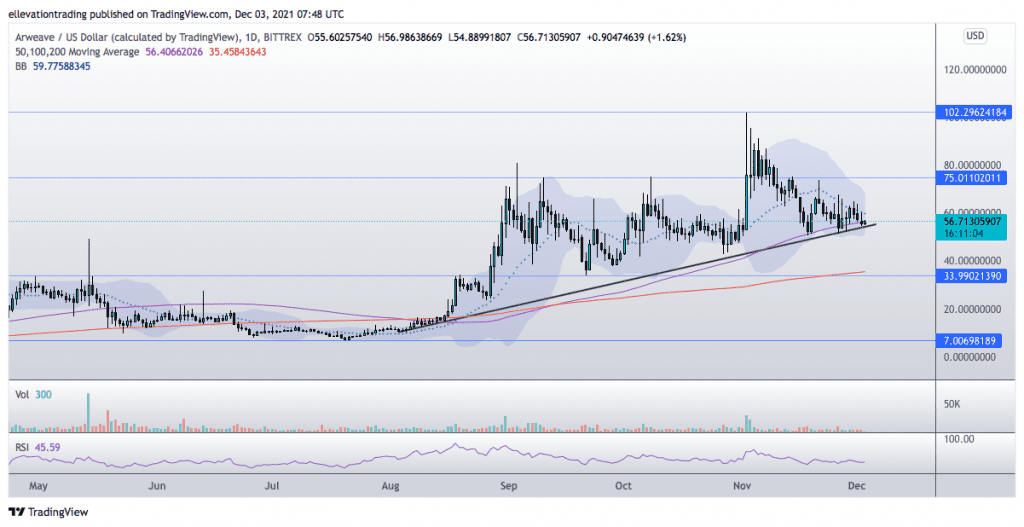 For more market insights, follow Elliott on Twitter.