In this article, we will look at Arweave price prediction for 2022, 2025 and 2030. We will also look at its underlying technology and how the project is upending the cryptocurrency industry.
Arweave overview
Arweave mainnet was launched in June of 2018 with a select group of about 1,800 handpicked participants worldwide. In 2019, Arweave raised $5 million from noted venture capital firms such as Andreessen Horowitz and Union Square. The company also announced another $8.3 million in March 2020 after a round of fundraising. The money was allocated to help grow the company's user base and developers involved in the Arweave project.
Arweave was initially called Archain before the rebranding and launch of the mainnet in 2018. The company promises to create a secure and globally accessible permanent information storage network at its core. This is achieved by using a distributed network of computers.
Arweave's lack of storage restrictions and functionalities, such as the ability to scale vertically, means it is able to meet the demands of the international community. The platform also has no censorship, consumes less energy by focusing on sustainability, and is more secure than most storage solutions used today.
Arweave Price History
Arweave is currently ranked as the 78th largest cryptocurrency by market capitalization. It has a market capitalization of over $1 billion. In the past few years, Arweave prices have hit numerous milestones. The table below shows some of the most significant price milestones of Arweave.
| | | |
| --- | --- | --- |
| Date | Milestone | Price |
| Nov 05, 2021 | All-Time High | $90.94 |
| May 27, 2020 | All Time Low | $0.4854 |
| 52 Week High | 52 Week High | $90.94 |
| 52 Week Low | 52 Week Low | $7.11 |
| Market Cap | Market Cap | $1,035,682,085.86 |
Arweave Adoption
Many platforms have adopted Arweave to store their data in a distributed blockchain network. This includes projects such as EverFinance, which uses 100 concurrent threats to read transactions using Arweeave highspeed networks. The platform has found Arweave solutions as a great way to massively improve their transaction processing speeds and scale their graph queries.
KYVE also uses Arweave to store Celo's historical data forever. This enables the company to apps like block explorer or DEX to call upon Arweave rather than forcing L1 to up node requirements, which burden miners and archival data. Other platforms such as ArDrive also use Arweave for their file storage.
Arweave Price Prediction 2022
Arweave has dropped by more than 65 percent since it reached its all-time high on November 5, 2021. The cryptocurrency has also dropped by more than 55 percent this year and is currently trading at $30. Looking at the daily chart, the cryptocurrency has also been on a long-term bearish move since January 4, 2022.
Arweave has been trading within the support and resistance levels of $23 and 68 respectively. The prices have also failed to break the support level to the downside numerous times. Recently, the prices also failed to retreat back to the support level, in a bearish move that started on March 2, 2022. Today's trading session also marks a second consecutive day that the prices are on the rise.
Combining all these factors, my Arweave price prediction for 2022 shows that the prices of the cryptocurrency will be trading at $68 by the year's end. This is based on a combination of the support and resistance level analysis and recent fundamental analysis such as the increased adoption of Arweave by many blockchain platforms.
In the Arweave daily chart below, the region marked with yellow is where I expect its prices to trade within during that period. Compared to today's trading session, the end-of-year return on investment will be 119 percent. This is above what most traditional investment portfolios return in a single year.
Arweave Daily Chart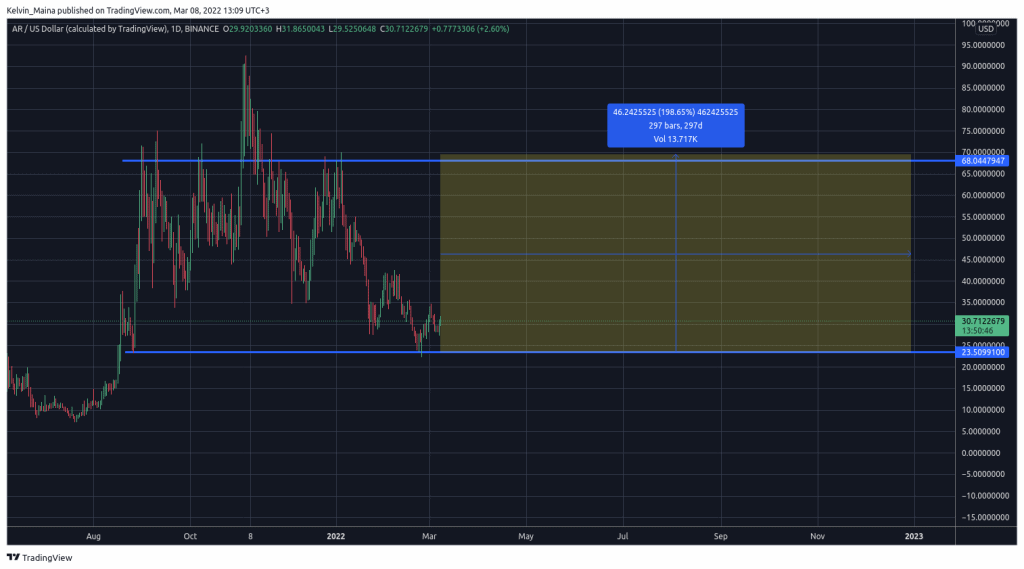 Arweave Price Prediction 2025
Between 2023 and 2025, I also expect the prices of Arweave to have an average return on investment of slightly above a hundred percent. This is based on the cryptocurrency's high volatility in the past. For instance, between 28 October 2021 and 5 November 2021, the cryptocurrency was able to gain 109 percent. This increase took less than two weeks to achieve. Although the prices would later drop to the current prices of $30, this significant increase can offer us a glimpse of what to expect by 2025.
Therefore, my Arweave price prediction for 2025 is the cryptocurrency will be trading at around $290 by 2025. This will average to 105 percent return on investment per year. Unless a black swan event happens before 2025, the $290 price by 2025 for Arweave is a conservative value that is likely to be reached by the cryptocurrency.
Arweave Price Prediction 2030
My Arweave price prediction for 2030 is also bullish. However, I think the average annual return for the cryptocurrency between 2025 and 2030 will be slightly lower than between now and 2025. Based on the current blockchain niche, the cryptocurrency will have more competitors by 2025 than it does now, where it ranks second behind Filecoin.
Therefore, I expect the average annual growth rate of Arweave to be about 55 percent between 2025 and 2030. This means I expect Arweave price to be $2,100 by 2030. This is also a conservative figure because past price action has shown that Arweave can grow within weeks by more than a hundred percent.
Is Arweave a Good Investment?
Arweave is a good investment based on my 2022, 2025 and 2030 price analysis above. This is because the cryptocurrency is expected to have an annual growth rate of more than a hundred percent per annum between now and 2025, and above 50 percent between 2025 and 2030. These returns are better than almost all traditional financial systems that have an average of below 20 percent.