Alibaba (NYSE: BABA) stock price has been in a strong bullish trend in the past three months as investors move back to Chinese companies. The shares jumped to a high of $118, the highest level since July 8. It has soared by more than 97% from its lowest point in 2022, bringing its total market cap to over $309 billion. So, what next for Alibaba share price?
What is Alibaba Group?
Alibaba Group is one of the biggest companies in the world. It is a company that operates the second-biggest e-commerce companies in the world. Its eponymous brand makes it possible for sellers to list their products and sell to global customers. The company operates its business through key divisions like China Commerce, International Commerce, Local Consumer Services, Digital Media and Entertainment.
It also operates logistics and cloud computing companies. The top Alibaba brands are TMall, Alibaba Health, TMall Mart, AliExpress, Lazada, and Trendyol among others.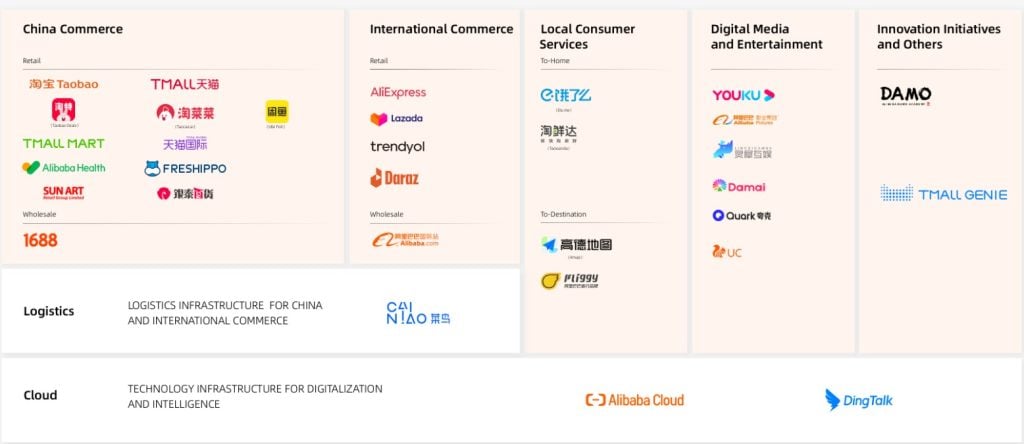 Why is Alibaba shares surging?
There are several reasons why BABA stock price is surging. First, there are signs that the world economy is improving after the difficult performance in 2022. Inflation in key countries like the United States and UK has started moving downward. At the same time, the cost of doing business, including shipping has started falling. Therefore, there is a likelihood that conditions will improve in the coming months.
Second, Alibaba stock price has surged after Jack Ma decided to separate himself from Ant Group. Ant is the financial division of Alibaba, which owns key platforms like Alipay, Ant Credit Pay, and MYbank among others. While he is still a key shareholder, he has stopped being involved in the company.
Third, BABA shares have soared because of the rising hopes that Chinese companies will not be delisted in the US. China has made some concessions lately on allowing American regulators have access to books of Chinese stocks listed in the country.
Further, investors believe that Alibaba and other Chinese stocks like Tencent and Baidu are severely undervalued. For one, Alibaba is one of the most profitable companies in the world. It also has a strong balance sheet with over $68 billion in cash and short-term investments. Its total assets stands at over $95 billion. Alibaba has just $21 billion in long-term debt, meaning that it can easily cover its debt.
Why did BABA stock crash in the first place?
While Alibaba shares have surged recently, they remain significantly lower than its all-time high of $317. In other words, the stock has plunged by more than 63% from its all-time high. This means that its total market cap has plunged by more than $400 billion in total market cap.
There are several reasons why Alibaba shares have plunged in the past few years. First, China started a tech crackdown after companies like Tencent, JD, and Baidu. Alibaba was hit harder because of a speech in which Jack Ma criticized the country's regulators. As a result, they canceled its planned IPO of Ant Financial. Regulators also levied billions of dollars in fines.
Second, Alibaba share price plunged as tensions between the United States and China intensified. As the gap between the two sides has widened, there have been fears that the US will delist Chinese companies. As a result, companies from the country have been abandoned by most American investors. To handle the situation, Alibaba decided to list in Hong Kong, where it is a major part of Hang Seng.
Third, the shares crashed as demand and waned in 2022. Alibaba, which was known for its fast growth, made $120 billion in the trailing twelve months (ttm). That was a much smaller figure than the $134 billion it made in 2021. The soaring inflation and supply chain disruptions had an impact on the company.
Is Alibaba a good investment?
I believe that Alibaba is a good investment for several reasons. First, the company has a better business model than Amazon, which is valued at over $1 trillion. For one, unlike Amazon, Alibaba's logistics business is relatively small. Its flagship website connects buyers and sellers. Sellers handle their logistics themselves. Before the current crisis, Alibaba was more profitable than Amazon.
Second, Alibaba has a strong growth rate in cloud computing. As shown below, Alibaba Cloud revenue has moved from $2.1 billion in 2018 to over $11.7 billion in 2022. This means that it has grown rapidly in the past few years. And analysts believe that the division will continue growing in the coming years. While Amazon and Microsoft have a bigger market share globally, Alibaba Cloud is growing mostly in China and other Asian countries.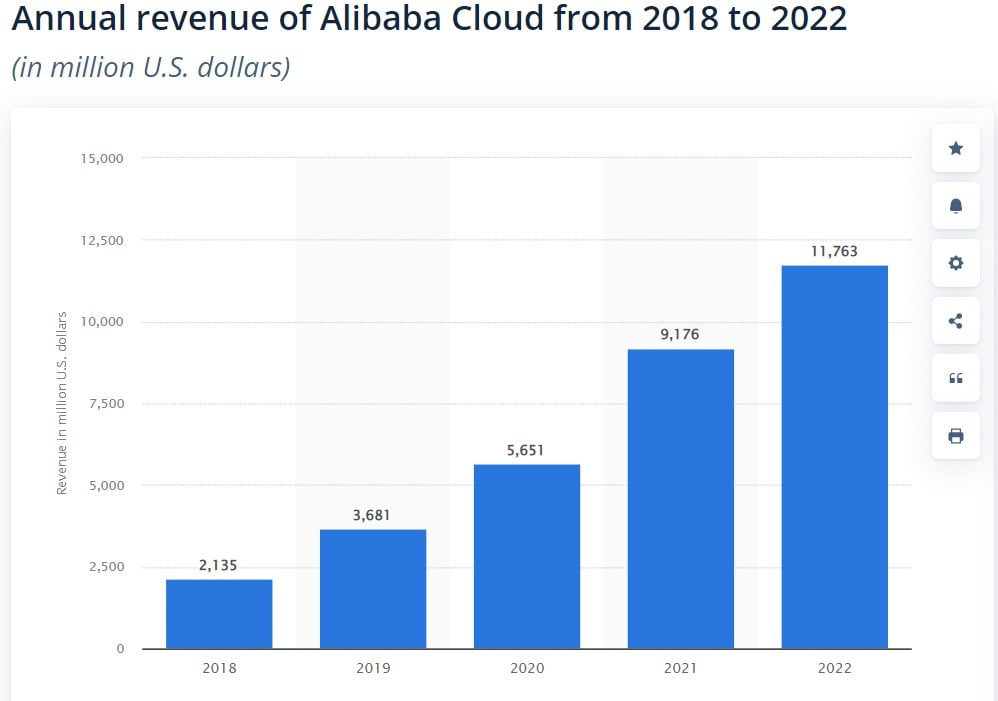 Third, China's economy crumbled in 2022. Therefore, there is a likelihood that the company will ride the recovery in the coming years.
Alibaba market cap and Jack Ma net worth
As mentioned above, Alibaba is one of the biggest companies in the world. It has a market cap of more than $305 billion. This makes it the 28th biggest company globally and the third one in China after Tencent and Kweichow Moutai.
Jack Ma is one of the biggest holders of the company. This means that Jack Ma has a net worth of over $35 billion, making him the 35th richest man on earth.
Alibaba biggest holders
Like other companies, most of Alibaba holders are institutions. The biggest holder of the company is Goldman Sachs, which owns more than 24 million shares. It is followed by companies like PrimeCap Management, Dodge & Cox, HSBC Holdings, Morgan Stanley, and T. Rowe Price. The chart below shows the biggest Alibaba investors.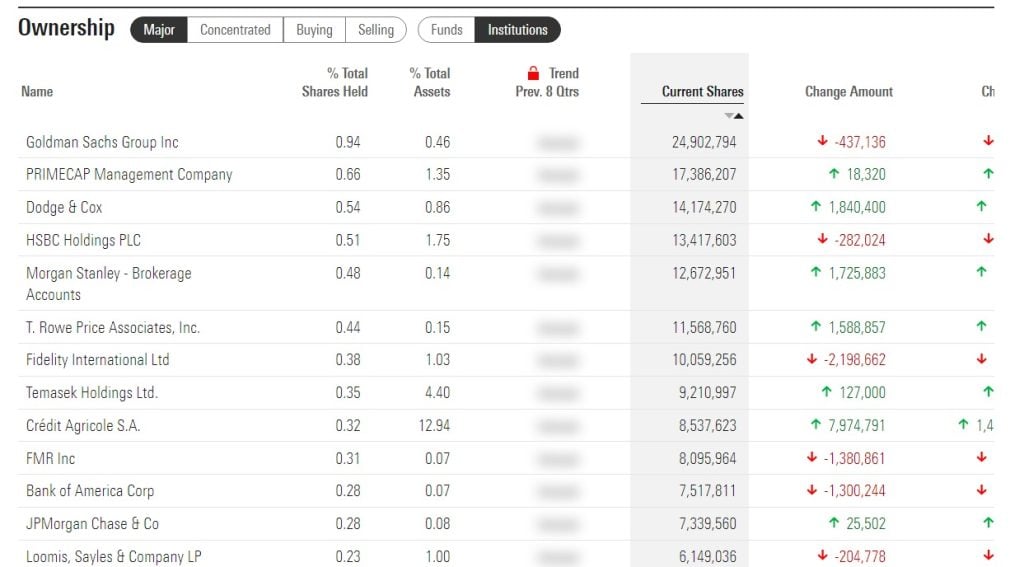 Is Alibaba Group a buy or sell?
The average target of Alibaba by analysts is $148, which is higher than the current $111. Most analysts like Barclays, Citigroup, Morgan Stanley, Goldman Sachs, and UBS have a bullish rating on the stock. Barclays analysts believe that the shares will rise to $141 while Citigroup believe that the stock will soar to $160. Morgan Stanley believes that BABA stock price will soar to $150.
Alibaba stock price forecast 2023
In November, I wrote that BABA was having a return of a new bull market. The daily chart shows that the BABA stock price has been in a strong bullish trend in the past few months. As it rose, the shares crossed the important resistance level at $100, which was the highest level in December. The 100-day and 50-day moving averages have made a bullish crossover. It also formed an inverted head and shoulders pattern.
Therefore, the shares will likely continue soaring as buyers target the key resistance level at $160, which is about 35% above the current level.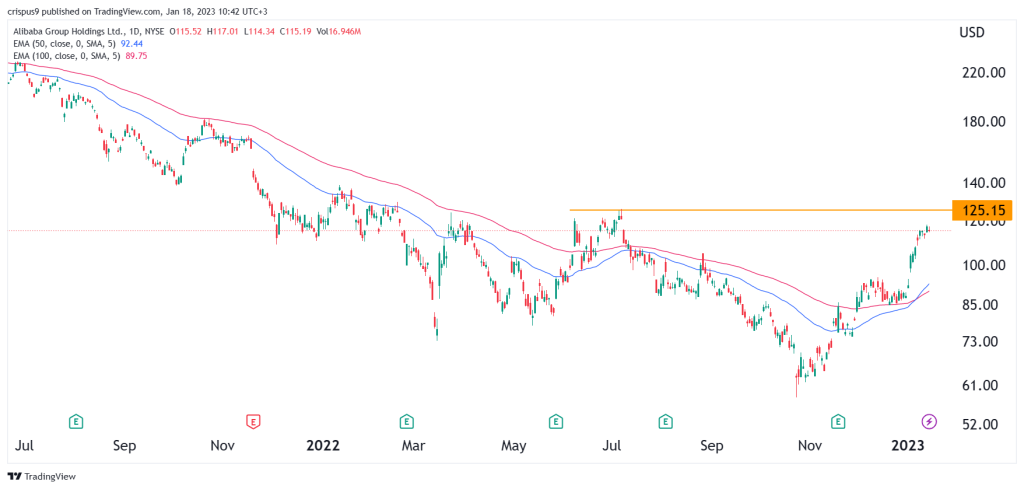 Alibaba share price prediction 2025
I believe that BABA share price will be much higher than where it is today by 2025. This growth will be driven by its cloud-computing business and retail. Therefore, I suspect that the shares will soar to over $200 by 2025. A report by Gov Capital estimates that the stock will be at $405 in December 2025. This means that it will almost double by then.
Alibaba stock price forecast 2030
Forecasting where Alibaba share price will be in 2030 is difficult. Still, I suspect that the company will do well in the next few years. If this happens, the shares will likely soar to over $500 by 2030. The main risk is if the crackdown by China's authorities continues and if the shares are delisted in the United States.