The Algorand Price Surged above $2.5000 to a new two-year high this morning, but the chance of a severe correction is increasing. To put it in perspective, since last week's historic 'Bitcoin Day' when El-Salvador launched the digital currency as legal tender, BTC has dropped around 15%. However, since the tiny central American nation announced it would be using Algorand (ALGO/USD) to develop its blockchain infrastructure, ALGO has doubled. As a result of this squeeze higher, Algorand is up almost 300% from the July low, and in my opinion, this may be a little too much too soon.
A week ago, with the Algorand price trading at $1.1900, I explained why ALGO was building up for a Bullish breakout. However, even though I was firmly in the bull camp, I didn't expect the price action we have seen since. In the last week alone, Algorand's market cap has jumped from $4 billion to over $12b, lifting it to the rank of 16th-largest cryptocurrency, behind Chainlink (LINK/USD). Furthermore, the price has surpassed May's blow-off top by more than 30%, leaving it starting to look stretched in the short term. Although, I said the same about Solana (SOL/USD) before it embarked on a 100% extension higher before succumbing to a 30% correction. This makes timing the top a dangerous game.
ALGO Price Forecast
The daily chart shows that for the last week, the Algorand price has been chopping around violently on either side of $2.000. Although this morning, ALGO traded at $2.5659, its highest price since 2019. However, since then, ALGO has started to pull back and is currently changing hands at $2.3100, around 2% below yesterday's close.
The recent price action is typical of a market struggling for price discovery. Typically, a pattern like this ends in a breakout. Of course, Algorand may break out to the upside, and if it does, I would expect to see a vertical extension similar to Solana's.
However, considering the recent price action, a downside breakout is more likely. On that basis, if the Algorand price drops below yesterday's $1.9000 low, we should expect to see some long liquidation. In this event, a leg lower towards the $1.5000 looks possible. This bearish view is valid as long as Solana doesn't make a new high above $2.5659.
ALgorand Price Chart (Daily)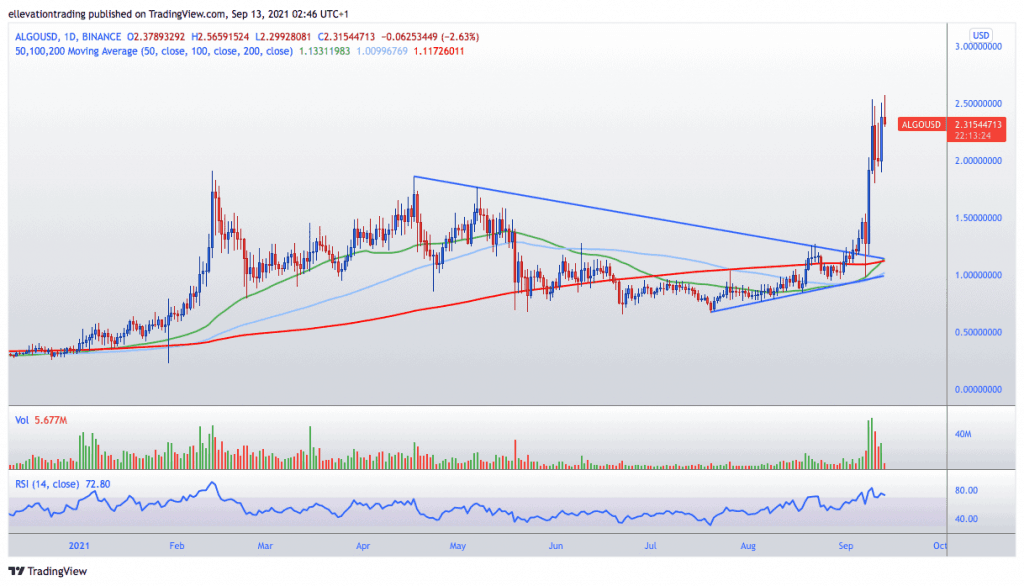 For more market insights, follow Elliott on Twitter.