After testing major support on Monday, the Algorand price is firmly back in bull mode. ALGO has clawed back 25% and is now testing major resistance. And after the impressive performance over the last four days, my bet is the resistance will price futile, which could set the stage for a monster rally.
Algorand (ALGO/USD) has recovered most of the losses it suffered in late August and is again on a bullish trajectory. Following the broad weakness that enveloped the crypto market in July, ALGO embarked on an impressive run. After reaching a low of $0.67 on the 9th of July, the Algorand price jumped 90% to $1.2642 in the four weeks that followed. However, despite extremely positive price action and encouraging trading volume, the rally was rejected by a descending trend line, in place since May's all-time high of $1.5070. But this morning, the price is gearing for another attempt to clear the trend, which may prove successful.
ALGO Technical Analysis
Turning to the daily chart, we see that two influential trend lines have dictated the price action recently. Below the market, a supportive trend line from the July low is seen at $0.9350. The 200-moving average at $0.9460, the 100 at $0.9760 and the 50-day at $0.9852 add to the robust support.
The descending trend, now at $1.2170, offers the first and most significant price resistance. Followed by the June high of $1.2710. However, upon clearance of the trend, $1.2710 should easily be overrun, and ALGO could extend towards $1.5500. Furthermore, if a broader market rally accompanies this, the Algorand price could potentially exceed the ATH.
That being said, if the price fails to clears resistance, a drop to the support starting at $0.9850 cannot be ruled out.
Algorand Price Chart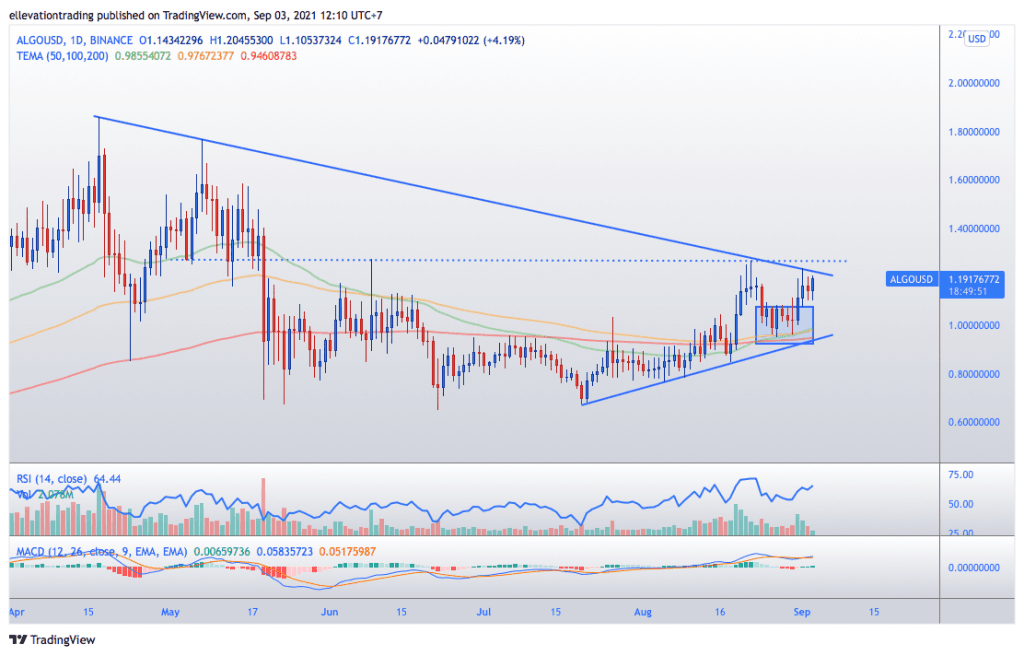 For more market insights, follow Elliott on Twitter.