AITX stock price continued its bearish momentum this month as worries about the penny stock continued. The shares retreated to a low of $0.0084, which was a few points below the year-to-date high of $0.0122. It has been in a strong downward trend as it lost about 99% of its market value from its all-time high.
In the past few months, AI stocks have enjoyed a great rally. However, the overextended rally has finally come to an end, as most stocks are already trading close to their YTD lows. AITX stock price has also shown a similar price action. The price surged by 108% during the first five weeks of the year. However, the stock experienced a massive sell-off after its peak in February and has been 47% down since then.
What is AITX?
Artificial Intelligence Technology Solutions (AITX) was founded on March 25, 2010, by John B. Crawford. Today, the company is headquartered in Ferndale, Michigan. Today, the company engages in providing artificial intelligence (AI) solutions. Its focus is on Ai-driven technologies capable of being paired with multi-use hardware and can easily integrate with custom software and cloud services. In addition, they are also involved in the automation and integration of security, concierge, and operational tasks.
The AITX company boasts several subsidiaries, including Robotic Assistance Devices (RAD), Robotic Assistance Devices Group, Robotic Assistance Devices Mobile, On the Move Experience, and OMV Transports. One of the main products that the company is involved in is the security robots such as ROAMEO.
Where To Buy AITX Stock?
AITX stock is not listed on any major exchanges. The company's shares are mostly traded over the counter. Many online brokers with access to OTC markets also offer ways to buy AITX stock. The most popular platforms in this regard are WeBull, Fidelity, Robinhood, and TD Ameritrade. Depending on your jurisdiction and portfolio size, you can open an account with any of these online brokers.
AITX news
AITX subsidiary Robotics Assistant Devices (RAD) has been in a lot of news lately due to its rapid expansion. According to AITX news, RAD has hit record sales in its fiscal year. The versatile robotics division has expanded to many new markets. It has also successfully completed the deployment of its devices, a large regional hospital group.
AITX has recently started a process to increase its authorized shares. This will increase the number from 6 billion shares to 7.25 billion. This is being done to ensure that the company remains funded in the coming years. AITX has also increased its investment in the development of video management systems.
As per the recently released Q3 financial results, the quarter-over-quarter revenue of the company has increased by 50%. During this period, the gross margin increased from 50% to 57%. The company has also projected recurring revenue of $800,000 by February 2024. This would also make the company's cash flow positive.
AITX Subsidiary Robotics Assistance Devices (RAD)
According to the most recent AITX news, Robotics Assistance Devices (RAD) has achieved a new milestone. RAD has deployed ROSA-P units at an acute care facility with 100 beds. The client hospital has more than 600 locations which suggest that this could be the first of many installations.
In its latest announcement, Robotics Assistance Devices (RAD) has also announced 3 new authorized dealers. This will expand its dealer network to 57 dealers. Two of the new dealers are based in Texas, while the third one is located in Michigan.
In other news, AITX CEO Steve Reinharz recently spoke to a CEO roundtable webinar on naked short selling. This is an attempt to expand the communications reach of the company amid naked short-selling rumors.
AITX Recent Financial Reports
AITX has not had the best financial growth for the past few years. In the financial year 2020, the company recorded a net income of negative $5.9 million. This loss was an improvement from 2019 numbers, where the company recorded a net loss of $6.21 million.
Looking at the 2021 quarterly numbers, the company recorded a net loss of $35.9 million in the first quarter. This was followed by another net loss of $4.8 million in the second quarter and a net loss of $7 million in the third quarter. The company also did not have the best quarterly figures when it came to revenue. In the first quarter of 2021, the company recorded a revenue of $560,000. For the second and third quarters, the company recorded a revenue of $141,000 and $373,000, respectively.
In October, AITX published strong financial results. Its subscription revenue rose by 85% You t over $228k in Q3. It also increased its gross profit margin to 87%. Notably, it continued diluting shareholders through stock issuance. Through October 21, the company received $4 million in share proceeds. It expects to receive an additional $4 million to $6 million by the end of the year.
AITX Stock vs FED Rate Hikes
The era of quantitative tightening is upon as, and most US equities are trading much lower than their 2021 highs. The constant rate hikes by the US Federal Reserve have increased the cost of borrowing. This high-interest rate environment is detrimental to innovative startups like Artificial Intelligence Solutions (OTCMKTS: AITX).
High-interest rates are not going to affect the growth of the company but will also put selling pressure on AITX stock price. Since the US Federal Reserve is expected to keep the rates high for foreseeable future, it will be tough for AITX to achieve its 2023 targets.
AITX biggest shareholders
As a penny stock, AITX does not have the heavyweight investors that hold other companies like Blackrock and Vanguard. According to Yahoo Finance, the biggest institutional shareholders in the company are Baxter Brothers, MAI Capital Management, and Williams Jones Wealth Management. It is also estimated that Steven Reinharz, the company's CEO, has a major stake in the company.
It is significant to note here that the ongoing rally in AI stocks already appears to be overextended. Apart from the tremendous success of ChatGPT, the breakthrough AI applications still seem to be a few years away. Recently, a ChatGPT rival was revealed by Google, which incorrectly responded to a query during its demo.
The alphabet stock tanked hard in the following days due to a half-baked launch Bard AI bot. The move was also criticized by many Google insiders and top executives.
AITX Fundamentals
AITX is a holding company that owns three firms, including Robotic Assistance Devices (RAD), Robotic Assistance Mobile Devices (RAD.M), and Robotic Assistance Devices Group (RAD-G). These companies manufacture products that are used to maintain stationary workflow automation solutions. It is a business-facing company that targets firms in the manufacturing sector.
The last few months have seen AITX make significant market moves that will position it as an AI-hardware solutions provider in the markets. Among these moves is the announcement that its subsidiary, Robotic Assistance Devices Inc (RAD), had signed Prudential Alarm as a new authorized dealer. The company also indicated that it had received an order for multiple security robots through this collaboration. This will see the company increase its sales in the coming years.
RAD Keeps Expanding In The US
The company has also received orders from Texas Dealer Pro Security Group. The orders were for ROSA autonomous security robots and were requested through their RAD subsidiary. The company also recently announced that it was bringing the RAD light my way, an integrated facility and campus safety application to the market. These moves will see the company continue to gain traction and increase sales. Its RAD subsidiary has also reported being interested in Red Hawk Casino, where they would work together, with RAD providing the ROAMEO mobile security robot.
AITX Stock Forecast 2023
On a daily timeframe, the AITX stock chart appears to have become a pump-and-dump stock. Over the past few months, the price has seen massive volatility spikes. Considering this price action, this penny stock appears to be a high-risk bet. There can be a lot of better plays in the market. My outlook on AITX stock price will remain bearish as long as the price stays below the 200-day moving average.
The volatile price action has continued since the start of the year. AITX shares surged to their yearly high of 0.0123 on February 3 but failed to close above the 200-day moving average. The price plummeted in the coming days, and OTCMKTS: AITX is trading 37% below its 2023 high.
AITX Chart Technical Analysis
The following chart of AITX is not for the weak of hearts. The chart shows massive signs of whale manipulation and short attacks. This makes it not a great stock to invest in for a short duration in anticipation of a quick profit. However, there are certain key levels that, if reclaimed, can result in a major price increase for OTCMKTS: AITX. These levels are the 200-day MA and the resistance of $0.0145.
The 200-day moving average acts as a line in the sand for many investors. Therefore AITX stock forecast can flip bullish as soon as the price gains strength about 200 MA on the daily chart. It's better to wait for a clear reversal signal than catching a falling knife.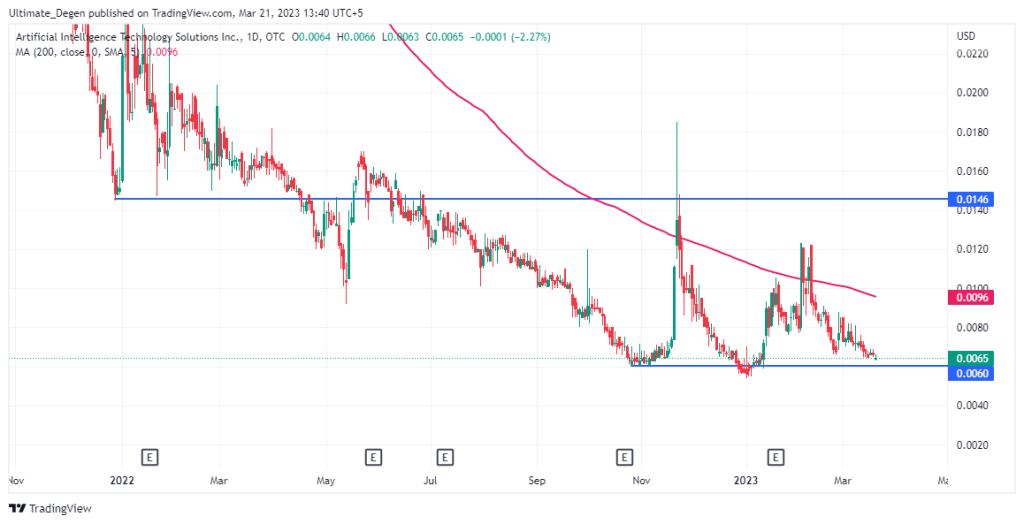 AITX Stock Forecast 2025
My AITX stock forecast for 2025 is prices will be trading above $0.1. This will be an average of 41 percent growth between 2023 and 2025. Although this figure is conservative due to recent price action history that has shown that AITX stock prices can rise at such a rate within less than a week, I expect the prices of the stock between 2023 to 2025 to grow at a relatively stable rate. However, there is still a possibility that AITX stock could be trading as high as $0.5 to $1.00 by 2025.
AITX Stock Forecast 2030
My AITX stock forecast for 2030 expects the stock to have crossed the $1 mark and trading between $5 to $10. This is a conservative prediction, and there is a likelihood that the prices could be as high as $20 by 2030.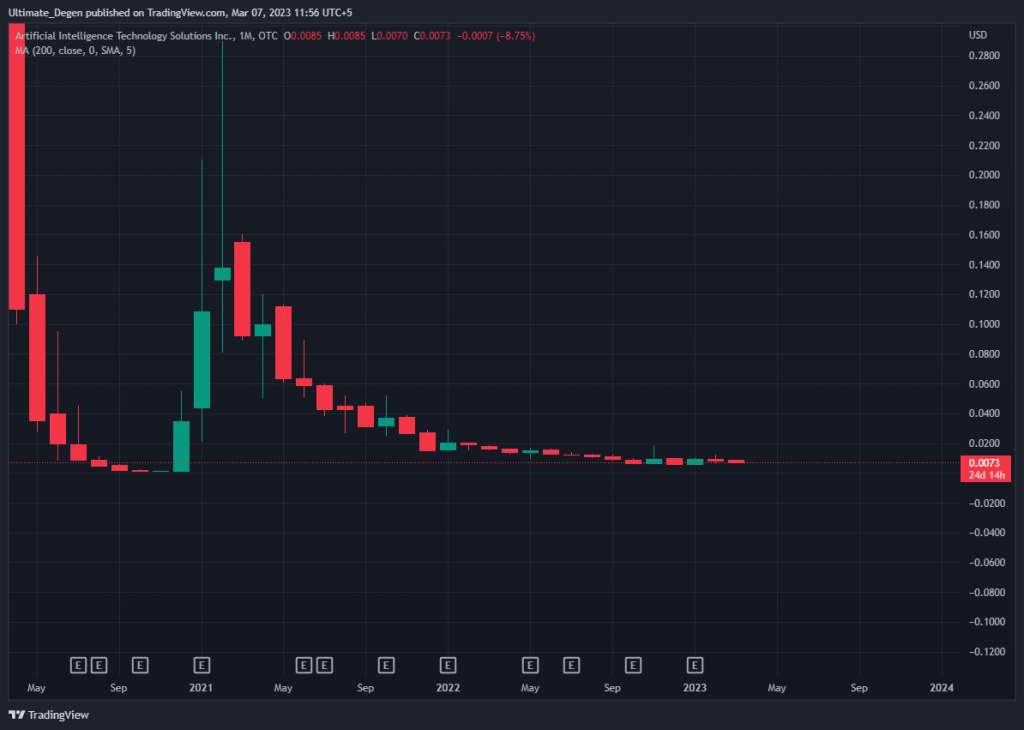 Is AITX a Good Investment?
AITX is a perfect investment for long-term investors. The stocks have shown their volatility in the past, where prices can rise up to 94 percent within three days. However, with my 2022 analysis showing that the prices may rise by over 200 percent before the year's end, the return on investment is higher than most traditional investment institutions, whose returns are below 20 percent.