For the last two weeks, the Aave price has been trying to force the breakout, but as yet, has been unable to punch through resistance. However, the price is finding support on pullbacks, and this may signal the DeFi leader might soon burst higher.
In August, Aave (AAVE/USD) saw mixed results, spending most of the month coiling between moving average support and trend line resistance. Subsequently ending with a mediocre 15% gain. However, two weeks ago, there were signs the decentralized finance protocol was setting up for a fall. Aave's Total Value Locked (TVL) assets declined by more than $1.2 billion from $15.5b to 14.3b. This sent the AAVE price lower by 20%. Since then, the lending platform has steadily grown its assets to $16.05b, cementing its place as the number one DeFi project. The jump in adoption didn't go unnoticed, and yesterday. the Aave price rallied to its second-best day of the month, gaining almost 10% and testing trend line resistance for the fifth time in August.
Technical Analysis
The daily chart shows a descending trend line from May's high is currently putting a lid on the price, at $403.00. If Aave clears this significant resistance, follow-through buying could lift the price to the $490-500 area, which proved the top of the reactive bounce following May's crypto crash event.
However, the trend is holding out so far, and Aave is vulnerable to a reversal until breached. Below the market, the Aave price sees solid support between $340 and $354, where the 6th of July high meets the 50, and 100-day moving averages. Below that, the 200-DMA at $321.58 offers additional support, followed by trend support at $290.00.
Aave Price Chart (daily)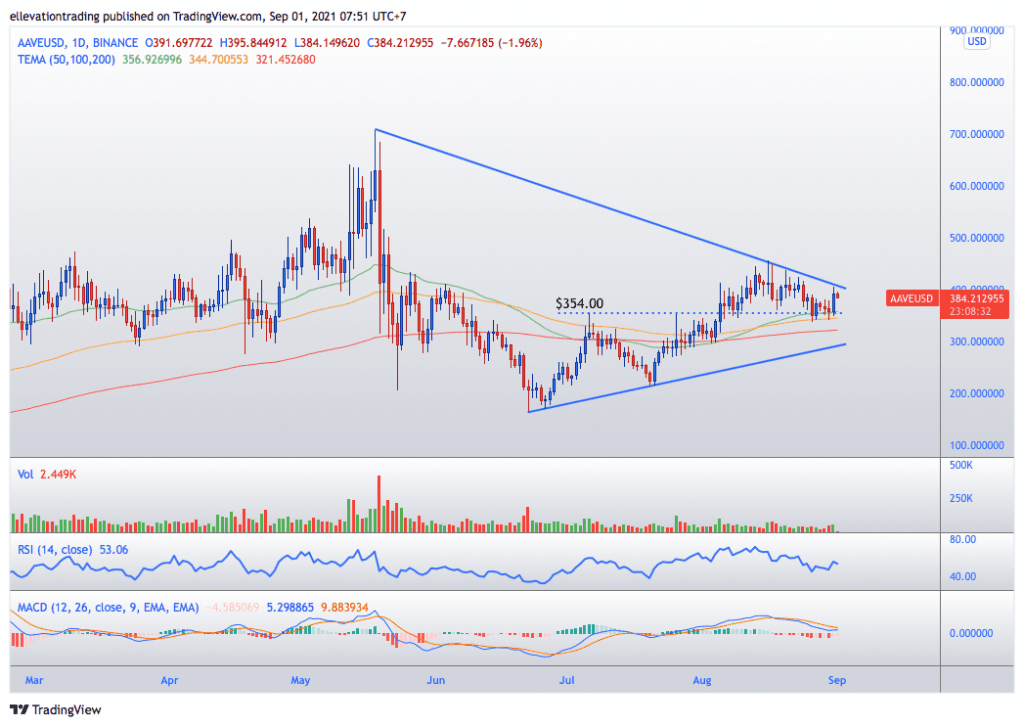 For more market insights, follow Elliott on Twitter.