The Aviva share price has done remarkably well in the past few months. The stock has risen by about 80% in the past 12 months, which is on par with the iShares Insurance ETF (IAK). It has also outperformed the FTSE 100 index, which has climbed by 30%.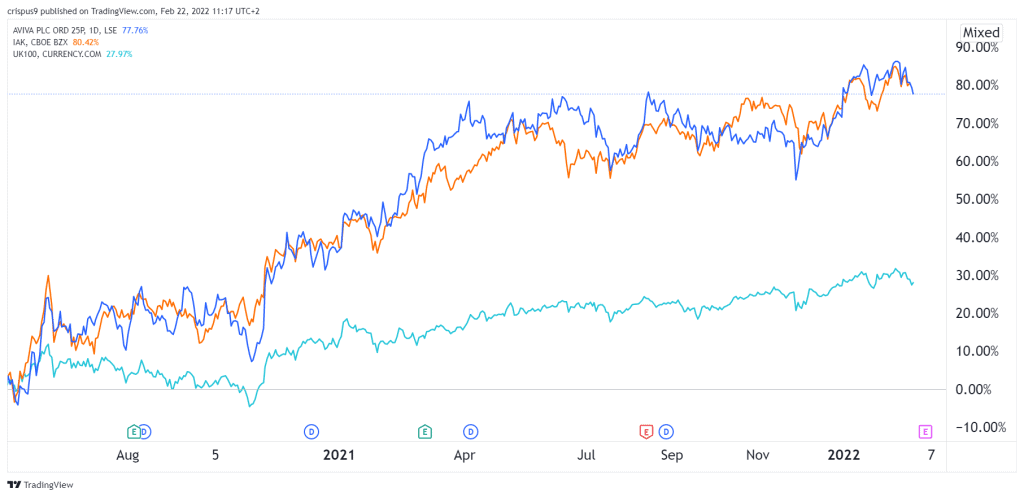 Why Aviva stock has done well
Aviva is a leading insurance and investment company that provides a diverse group of services to individuals and institutions. The company offers savings, retirement, and insurance solutions to millions of people in the UK and a few other countries like Ireland and Canada.
Its investment arm, known as Aviva Investors, is a leading firm with over 263 billion pounds of assets under management.
The Aviva share price has performed well recently due to several reasons. First, as a general insurer, the company benefited during the pandemic since people paid for insurance, but the number of claims was limited. This performance was partially offset because the number of life claimants increased modestly.
Second, the company published strong results in 2022. For example, in November, it reported that its savings and retirement inflows jumped by 21% to over £7.3 billion. In addition, the inflows to Aviva Investors rose by 37% to 1.6 billion pounds while its solvency II cover ratio rose to 215%.
Aviva shareholder returns
Third, the company increased its focus on its shareholders as it sold its divisions in France, Poland, Vietnam, and Italy. It used the proceeds of these funds to fund its dividend and share repurchases program. The total proceeds for the sales were about 7.5 billion pounds.
Further, the Aviva share price rose because of the rising expectations that higher interest rates are coming. Historically, insurance companies tend to do well in a period of higher rates because of the rising interest income.
Meanwhile, analysts are bullish on the Aviva share price. The average estimate is that the stock will rise to about 490p, with the highest estimate being 540p. Some of the most optimistic analysts are from Berenberg, Morgan Stanley, Deutsche Bank, and JP Morgan.
Aviva share price forecast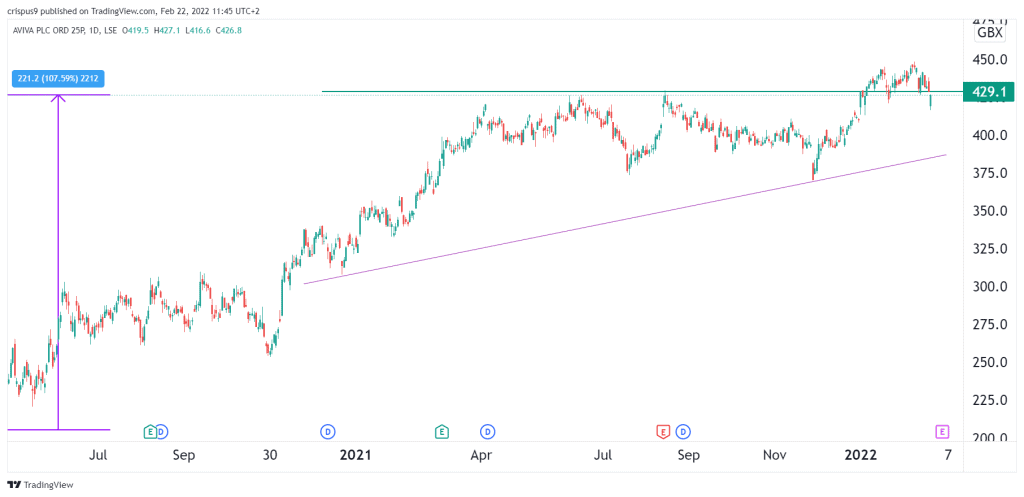 The daily chart shows that the Aviva stock price has been in a strong bullish trend for months. It has risen by more than 108% from its lowest level in 2020, becoming one of the best-performing stocks in the FTSE 100 index.
However, the shares rally has recently faltered and moved below the key support level at 426p, the highest level on August 21st. It has also formed a small double-top pattern whose chin is at 422p. Therefore, there is a likelihood that the stock will retreat further in the coming days as investors wait for the upcoming earnings.