In this article, you will learn Zilliqa's underlying blockchain technology, and how it impacts our Zilliqa price prediction for 2022, 2025, and 2030.
Zilliqa is a blockchain network explicitly designed to address scalability issues plaguing most cryptocurrencies in the market. It can perform complex computations and offer high throughput, with the ability to complete thousands of transactions per second.
Zilliqa Overview
Zilliqa project was launched in June 2017 by a group of researchers from the National University of Singapore. These researchers were led by co-founders Xinshu Dong, Yaoqi Jia, Amrit Kumar, and Prateek Saxena.
Zilliqa held its Initial Coin Offering of their ZIL token in 2017. They were able to raise over $22 million and accepted the capital in the form of Ethereum.
They would later launch their blockchain network's mainnet in 2019, which allowed other users to trade the crypto.
At its core, Zilliqa promises to address the scalability limitations that can be seen in other blockchain networks by introducing sharding to their network. The sharding method involves splitting and storing a single logical dataset in multiple databases. By distributing the data among multiple machines, databases can handle larger datasets, perform complex computations, increase throughput and thousands of transactions per second.
Zilliqa also uses a modified version of the Proof-of-Work consensus protocol to order and validate transactions.
Today, Zilliqa has a maximum supply of 21 billion tokens. After it was first made available to the public for sale as an ERC-20 token, tokens were transferred to Zilliqa mainnet in a token-swap event that concluded in February 2020. As a result, the crypto has a current circulating supply of 12,353,669,000 ZIL tokens.
Zilliqa Price History
Since its launch, Zilliqa's price movements have been very volatile. The crypto reached a high of $0.136 on August 25, 2018, before starting a downward trend that lasted until March 13, 2020, when the prices hit their all-time low of $0.002 before starting a bullish move.
The bullish move continued until May 13, 2020, when Zilliqa set its all-time high of $0.256.
Since then, the prices have been trading below the all-time highs, and Zilliqa currently trades at $0.046. The table below shows Zilliqa price milestones since it was launched.
| | | |
| --- | --- | --- |
| Date | Milestone | Price |
| May 06, 2021 | All-Time High | $0.2563 |
| Mar 13, 2020 | All Time Low | $0.002477 |
| 52 Week Low  | 52 Week Low  | $0.0379 |
|  52 Week High |  52 Week High | $0.2563 |
| Annual return on investment | Annual return on investment | 1076.94% |
Adoption
Zilliqa prides itself on having one of the largest ecosystems in the cryptocurrency industry.
To put it in numbers, their decentralized applications (dApps) have 108,349 smart contracts deployed at writing. The platform also executes over 10,000 smart contract transactions daily.
Zilliqa blockchain technology also transacts over $9 million a day on its network, with the cumulative value of transactions on the blockchain amounting to five million. The network currently has 2,400 active nodes.
The total value of locked assets on the platform adds up to $270 million. The platform also offers one of the most competitive annual percentage rates of return to users who have staked their assets.
The value of locked assets in their decentralized finance platform is $291 million. They also have an estimated $20.12 million in ZilSwap Dex TVL.
The data above shows that Zilliqa has a great future, and a considerable portion of the cryptocurrency community trusts the project.
Zilliqa Price Prediction 2022
Zilliqa prices have been on a long-term downward trend since November 11, 2021. Today, Zilliqa opened the markets at $0.045 and is currently trading at $0.047.
Since November 11, 2021, the crypto has also been trading within a regression trend, trading within the upper and lower deviations of the descending channel.
Over the years since the crypto was launched, it has formed several important support and resistance levels, such as $0.002, which is its all-time low. Other levels include the $0.03 support level, $0.122 resistance level, and another $0.129 resistance level.
Based on these levels and the historical price action, my Zilliqa price prediction for 2022 is the crypto will be trading at around $0.122 by the end of the year. This price is the closest long-term resistance hit on October 31, 2021.
The $0.122 closing price will be a 151 percent increase in the value of the current prices or a 151 percent return on investment based on today's prices.
However, there is a very high chance that the crypto may become aggressive as the year progresses. This is because the current decline in its price is an industry-wide problem that has affected all cryptos, including Bitcoin, which positively correlates with Zilliqa.
When an aggressive bullish move happens, I expect the prices to move past $0.122 but likely stay below the $0.1229 resistance level. If that happens, I expect the return on investment on Zilliqa to jump to 167 percent for the year.
Zilliqa Daily Chart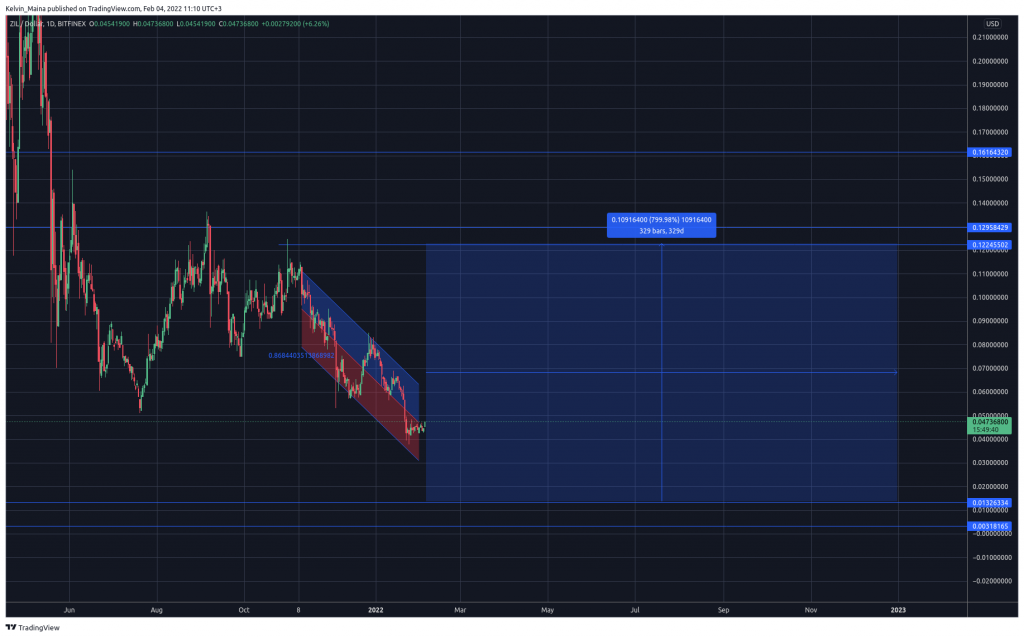 Zilliqa Price Prediction 2025
My Zilliqa price prediction for 2025 is the crypto will be trading at around $2.5 or slightly above that resistance level. This is the crypto's all-time high level, set on May 13, 2020.
I also expect Zilliqa to be very volatile during the period running from 2023 to 2025. I expect the prices to trade within the range of $0.06 and $2.5, as shown on the weekly chart below, where the red brick range represents the prices from 2023 to 2025.
Based on today's prices, the 2025 growth of $2.5 will be a 420 percent increase in the value of the cryptocurrency. This is a very conservative price jump, considering the crypto was able to jump from its all-time lows to its all-time highs in just 14 months. This price jump represented a 1,200 percent return on investment for traders who bought Zilliqa at its all-time lows.
Zilliqa Weekly Chart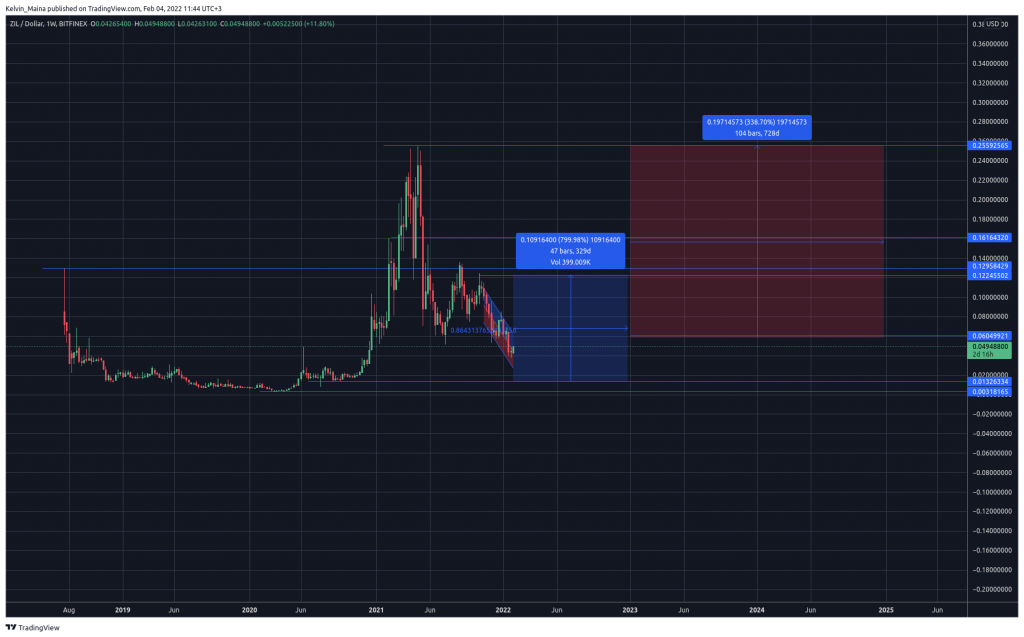 Zilliqa Price Prediction 2030
My Zilliqa prediction for 2030 indicates that the crypto will be trading above one dollar.
This is based on my previous analysis of the crypto, such as the Zilliqa price prediction for 2022 and 2025. In these analyses, we found that Zilliqa will grow by 150 percent by 2022. The crypto will also be 420 percent higher by 2025. Using these values, we can see that Zilliqa has an annual growth rate of 100 percent to 150 percent.
However, between 2025 and 2030, I expect the price growth to be much more aggressive than the period between now and 2025. This will bring the average annual growth for the next eight years at around 150 percent per annum, which will result in prices trading above $1 by 2030.
Zilliqa Latest News
Indonesian e-Sports team Rex Regum Qeon, is collaborating with Zilliqa to offer more options to their fans. The e-Sport team indicated that they were pleased to announce the collaboration, which will see them leverage the platform's secure, scalable and high-performance blockchain. 
Zilliqa through its ZilPay extension has added tokens fetch from server, allowed adding of new currencies for track and also added a new locale.
ViewBlock, a popular Zilliqa blockchain explorer has added new features that allow users to view further information. This was announced on the ViewBlock official twitter account.
Is Zilliqa a Good Investment
My Zilliqa price prediction for 2022 shows that the crypto will grow by more than 150 percent. My technical analysis for Zilliqa price 2025 also shows that the prices will be more than four times higher than today.
By 2030, I expect the prices to be trading at above $1. This is more than 20 times the current price of 0.049. It is also an annual growth rate of 150 percent per year.
In most traditional investment opportunities, the annual growth rate of the investment does not go past 10 percent.
Therefore, in my opinion, Zilliqa is a good investment, especially for people looking for long-term opportunities.