After a month of rejection, the XRP price finally cleared long-term trend resistance, which could lift Ripple towards 2021's high. Ripple (XRP) is trading at $1.2320 (+1.85%) this morning, increasing its 7-day performance to 22.60%. XRP currently has a market cap of $7.865 billion, ranking it the 7th-biggest cryptocurrency behind Cardano (ADA).
Although Ripple has broadly underperformed the market in general over the last month, XRP is one of the better-performing top-20 assets in the last week. But whilst Solana (SOL), Ethereum (ETH) and Polkadot (DOT) have set new records recently, the XRP price is more than 60% below its 2017 high. Nonetheless, the recent price action is encouraging and indicative of growing bullish sentiment. However, the trading volumes remain light, suggesting investors are reluctant to commit until Ripple labs' hearing with the Securities and Exchange Commission (SEC) ends. However, aside from the volume, several technical indicators support a higher price.
Ripple Price Analysis
The daily chart shows the XRP price cleared significant trendline resistance (now support) at $1.166. Furthermore, the 20,50,100 and 200-DMA's provide considerable support between $1.000-$1.1000. Also, the Relative Strength Index (RSI) and MACD are trending higher and have plenty of room to grow.
As long as Ripple remains above the trend line, I expect it to advance to the September highs around $1.400. Although considering the technical backdrop, an extension into the $1.600-$1.800 is possible.
As mentioned, the bullish view relies on XRP holding the trend, now at $1.160. On that basis, a close below this level invalidates the immediate bullish thesis.
XRP Price Chart (Daily)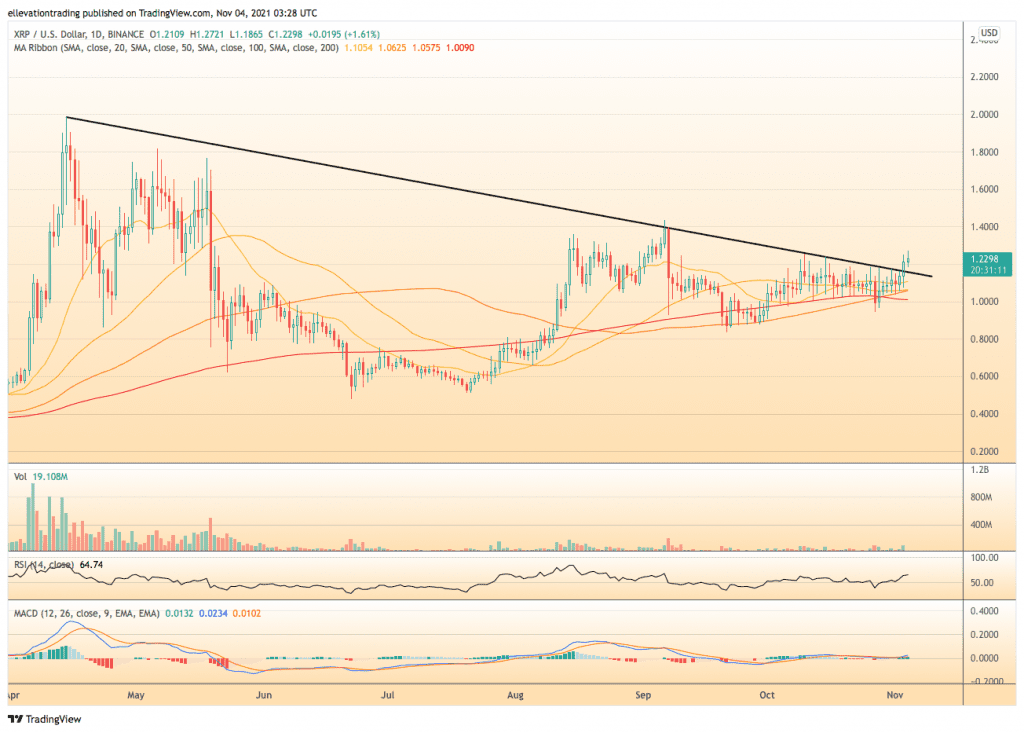 For more market insights, follow Elliott on Twitter.