The XLM price is up 40% from Saturday's low after buyers snapped-up coins on the cheap, but will the bounce be short-lived?
After crashing over 40% last week, Stellar (XLM) has performed well, paring December's loss to just 11%. However, XLM is 63% below the May high and trading at a 70% discount from the all-time high despite the bounce. Furthermore, Stellar is no longer a top-20 cryptocurrency. XLM's current market cap of $7.28 billion ranks it as the 25th most-valuable crypto ahead of Axie Infinity.
Stellar Lumens has suffered the same fate as many 'legacy' altcoins like Litecoin and Bitcoin Cash, in that investors have preferred newer projects of late. The rise of Defi, NFT's, Layer-2s and the Metaverse has played a part in XLM's poor overall performance this year. As a result, the XLM price has spent the last six months trading sideways in a broad horizontal channel.
Will the Stellar Rebound Last?
The daily chart shows that Stellar saw good support towards the July low ($0.195) on Saturday. However, the resulting rally has stalled at the former trend support (now resistance) at $0.308.
In my view, until the XLM price clears trend resistance, it is vulnerable to another round of selling. In that event, the coin may retest the July low. But on the other hand, a close above the trend flips the outlook to bullish. On that basis, I am 'very cautiously' bearish below $0.308 and cautiously bullish on a daily close above.
However, the cryptocurrency market is likely to remain volatile for some time. And for that reason, my advice is to let the dust settle before making a long-term investment decision.
XLM Price Chart (Daily)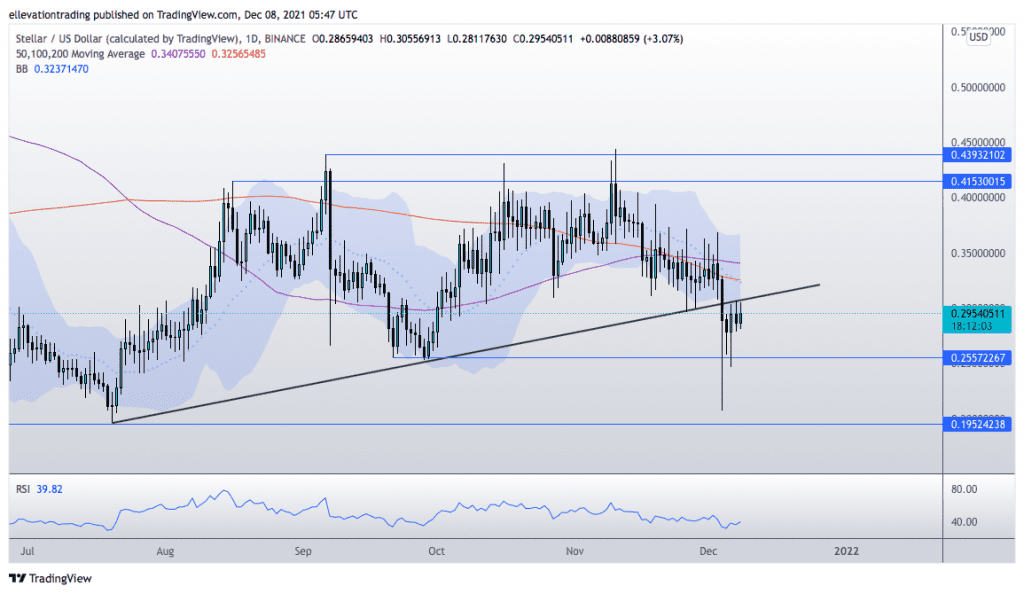 For more market insights, follow Elliott on Twitter.