The Natwest share price has pushed off session lows and is now trading a tad higher as it looks to recover from yesterday's steep loss. 
Yesterday's drop was triggered as the Bank of England (BoE) raised interest rates to their highest level since 2009. The steep drop was triggered by the UK government's sale of 2.5% of its majority stake in the bank, nationalising in the wake of the 2008 global financial crisis. By this sale, the UK government's stake is down to 48.1%, which strips the bank of majority public holding. The bank repurchased the shares. 
Despite the steep drop, two investment banks have set bullish targets for the Natwest share price. Deutsche Bank says it is raising its price target for Natwest from 315p to 330p as it sees the UK bank offering "unparalleled capital return" over the next 12 months. Deutsche Bank sees a 20% yield on the stock this year and retains its Buy recommendation. 
JP Morgan has set a 12-month target for the Natwest share price at 250p. Today's current price of 210.4p allows for a potential 18.82% upside on the stock. Therefore, it may be pertinent for traders wishing to get a better deal to buy when the price is at more attractive levels.
Natwest Share Price Outlook
The intraday low at 206.6 (21 September 2021 high) remains under pressure. A breakdown of this price level sends the stock towards the 200.6 support (27 May and 30 June 2021 highs). 195.0 and 187.3 are additional targets to the south that become viable on continued price deterioration.
On the flip side, if the active daily candle stays above the 210.0 price mark, it preserves the integrity of that price as a support. This could allow for an advance towards 214.5 (3 March and 13 April highs). Conversely, 220.0 and 224.2 are additional price barriers to the north if the bulls uncap 214.5.  
Natwest: Daily Chart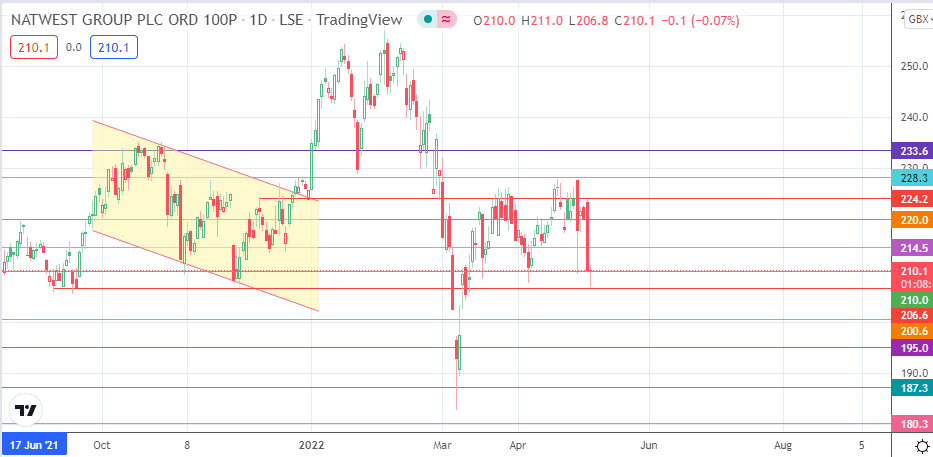 Follow Eno on Twitter.