UK clothing and online fashion retailer Boohoo saw a steep slump in the Boohoo share price after the company reported a 28% drop in its annual earnings. The company also warned of a tougher year ahead and said that extrinsic pandemic-associated factors would continue to impact its sales this year.
The warning came as Boohoo posted earnings before interest, tax, depreciation and amortisation (EBITDA) of 125 million pounds. This figure was in line with the earlier guidance but was short of the previous year's EBITDA of 173 million pounds. Nevertheless, revenues rose to 1.98 billion pounds, showcasing a 14% increase. 
The fall in EBITDA follows higher inbound freight costs as the global logistics chain continues to face challenges. In addition, spikes in product return and disruption to international deliveries are also blamed for the underwhelming profits.
The company, which sells shoes, clothes, accessories and beauty products, saw a spike in its revenue and profits during the pandemic. However, its indoor wear products saw heavier-than-expected demand and sales from locked down shoppers. A reopening of the UK economy led to a fall in this demand. The resultant choke in the supply chain logistics impacted the company's foreign deliveries and saw it contending with higher logistics costs.
The Boohoo share price is down 11.43% as of writing and is one of the heavy losers in Wednesday trading on the London Stock Exchange.
Boohoo Share Price Projections
The decline deepens the breakdown of the rectangle pattern, with the price dip below 76.12, converting that price level into new resistance. However, the 63.42 support (7 March 2022 low) remains the bull's primary target. Below this area, 52.30 (15 June 2016 low) forms another downside target.
On the other hand, an upward branch of 76.12 opens the door for the push towards 85.64 (rectangle's lower border). This also closes the gap. The rectangle's upper border at 96.86 is yet another target to the north that has to give way for 109.10 (1 February high) and 120.00 (psychological resistance and 14 January 2022 high).
Boohoo: Daily Chart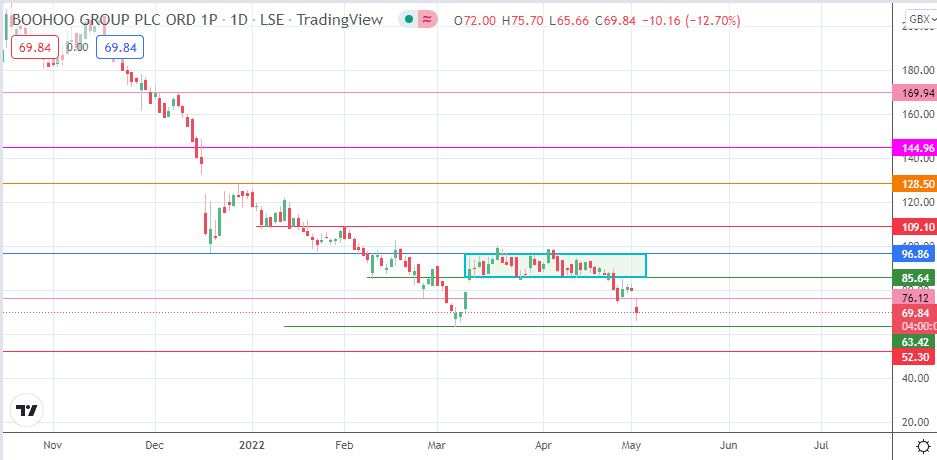 Follow Eno on Twitter.