The Boohoo share price is trading higher on the day and looks set to prevent the third day of steep losses after a hefty selloff in the stock over the previous two days. The Boohoo share price is trading 7.27% higher after it said it had adopted the Aiimi Insight Engine to incorporate next-generation data management capabilities into its operations.
The Aiimi Insight Engine brings to Boohoo the ability to proactively manage and monitor high-risk data, which is warehoused in external drives such as OneDrive and SharePoint, and interconnect the information across the entire organisation. The media statement also said the engine would ultimately save the company a substantial amount of man-hours through streamlining tasks. 
For a stock which has been fighting against bearish sentiment for a more significant part of the last year following the lifting of lockdowns, investors in the home-wear maker's shares were able to get a breather this Thursday after some demand came into the stock on the news.
The Boohoo share price saw its best days during the pandemic, as locked-down workers increased their patronage of the company's range of at-home clothing items. Full-year results are expected on 4 May, with the company providing earlier guidance that saw an increase in net sales by 14% in the last 12 months. According to market expectations, it is also anticipating an EBITDA of 125 million pounds for the full year.
Boohoo Share Price Outlook
The breakdown move of the rectangle pattern has stalled after a bounce from the 76.12 support (24 February low). The bulls must build momentum to challenge the resistance now posed by the rectangle's lower border at 85.64. If this border is breached, 96.86 (22 March and 6 April highs) comes into the mix as the next target to the upside. The 1 February 2022 high at 109.10 comes into the picture if the advance traverses the entire rectangle range, leaving 120.00 (psychological resistance) and 128.50 (29 December 2021 high) coming into the picture as the next northbound target.
On the flip side, the bears would be seeking to sell on rallies, ultimately targeting the breakdown of the 76.21 support level. This scenario would bring in 63.42 (7 March 2022 low) as the next downside target before 52.30 (23 June 2016 low) arrives on the scene.
BOO: Daily Chart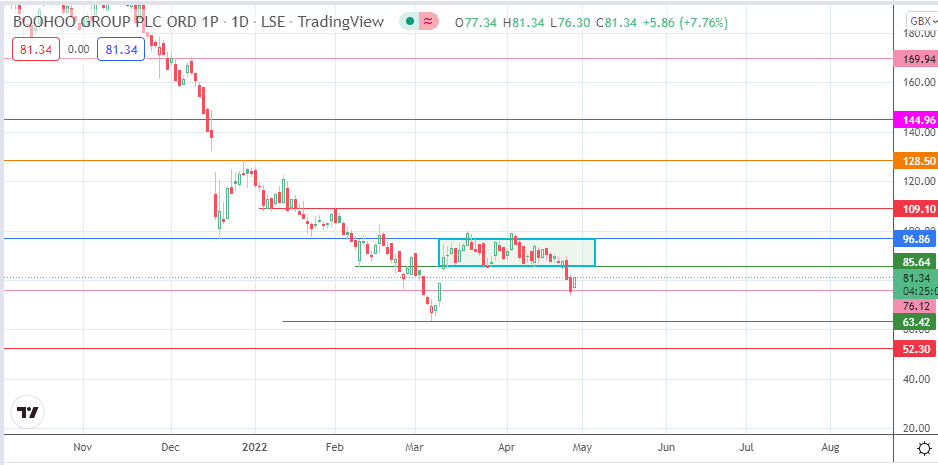 Follow Eno on Twitter.