I have repeatedly warned about the Wall Street Memes coin price since the project was in its presale. I logically explained how the WSM coin may fall below the presale price after its exchange listing. However, most investors laughed at me and shrugged off obvious concerns.
Finally, just after the 10 days of its launch and exchange listing, WSM crypto has plunged below its presale price. To be honest, I was hoping to be wrong as I know how many people lose money whenever a memecoin collapses. On Thursday, the popular memecoin fell to its all-time low of $0.031 before showing a slight recovery.
As you might have judged from the title, the official discord server of the Wall Street Memes coin has been hacked today. The team confirmed the incident from their X (Twitter) account. Many users are claiming to have lost funds after clicking the malicious links posted by the hacker.
Wall Street Memes price is down 10.28% today. While many analysts would blame the discord hack for the negative price action, I believe it was meant to happen sooner or later. The coin was priced at $0.033 during its months-long presale, in which the team raised around $33.7 million.
WSM Crypto Chart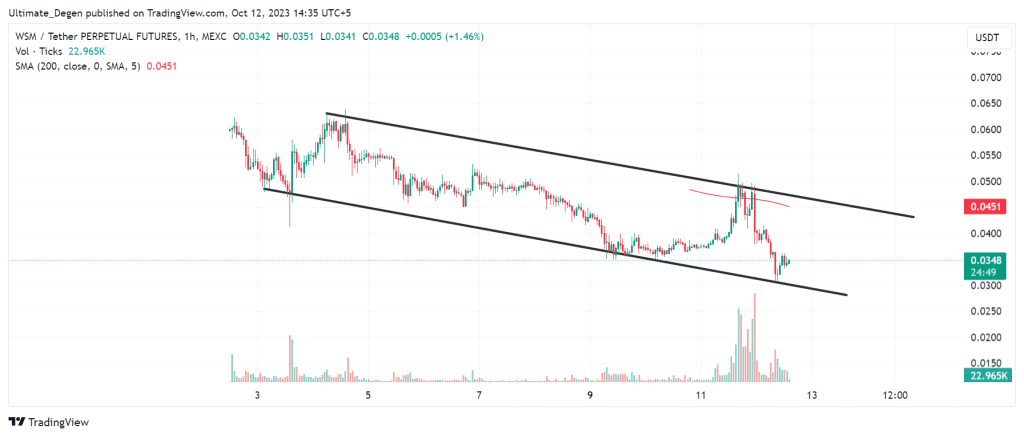 Wall Street Memes Coin Price Prediction
The ongoing price action of the WSM crypto comes as no surprise, as there was very little demand for the coin on crypto exchanges. The coin is available on exchanges like OKX, HTX, MEXC, etc., but its hype is fading out.
Wall Street Memes price prediction will remain bearish as long as it remains below the presale price of $0.033. Once a coin drops below its presale price, it becomes very difficult to recover. The situation is even worse for the memecoins as the investors try to exit at breakeven to avoid bigger losses.
You can now follow me on Twitter to keep track of my personal trades on stocks and cryptocurrencies.