The Vodafone Idea Share price continues its recovery on Wednesday buoyed by hopes the upcoming cabinet meeting will relieve the beleaguered Telcom. Vodafone Ideal (NSE: IDEA) jumped to Rs 9.03 in the early mid-week trade, its highest price since the meltdown in July.
Vodafone Idea's former Chairman, Kumar Mangalam Birla, recently met with the Union Minister for Communications Ashwini Vaishnav to discuss government assistance for Vodafone idea. This comes a month after he decided to step down and offer his stake over to the government to keep the company in business.
This follows the government's proposals for relief for the telecoms industry. And it seems that investors are pinning their hopes on the cabinet agreeing to reforms that will lead the Vodafone Idea back to stability.
NSE: IDEA Technical Analysis
The daily chart shows that the Vodafone Idea share price has surged more than 40% since the start of the month. As a result, the price has cleared the resistance of the 50-day moving average at Rs 7.50 and the 100 DMA at Rs 8.21. Furthermore, this morning's strength lifted Vodafone Idea above the 200-day average at Rs 8.77. Although, presently, the long-term gauge is proving a tougher test.
Successful clearance of the 200 DMA should lead to further gains. And above, Rs 8.77, a logical target becomes the June high of Rs 10.98. Not to mention a sustained rally could lift IDEA towards the top end of the 12-month range between Rs 12.30 and Rs 13.62.
However, despite the growing investor confidence, doubts remain. On that basis, a reversal cannot be ruled out. Should the Vodafone Idea share price fall below the 100 DMA at Rs 8.21, the 50 DMA should follow. Furthermore, below the 50 DMA would suggest a reversal of fortunes and negate the bullish outlook.
Vodafone Ideal Share Price Chart (Daily)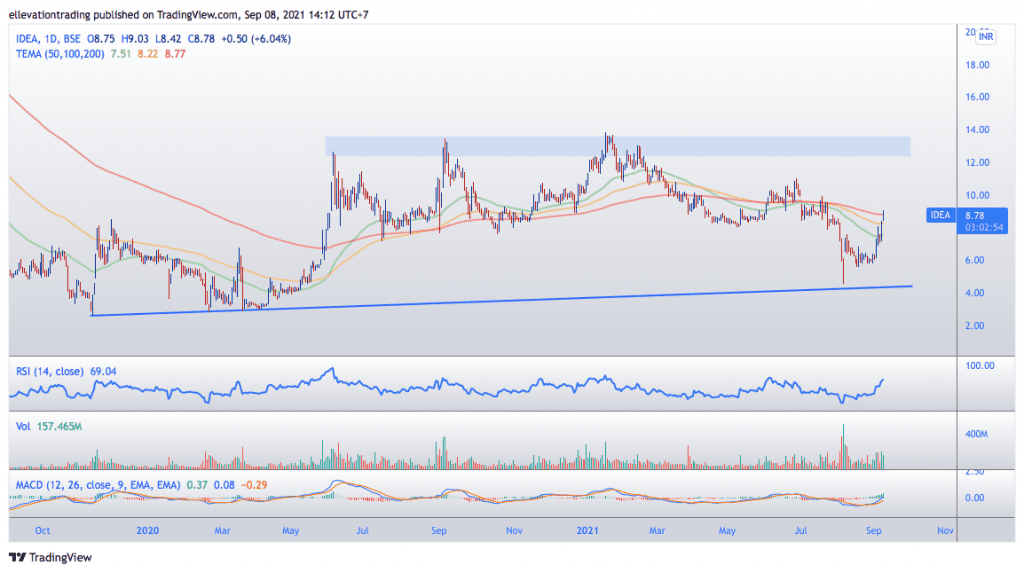 For more market insights, follow Elliott on Twitter.