The Virgin Galactic stock price came under heavy fire on Friday as the US Federal Aviation Administration (FAA) halt further space flights for now. Virgin Galactic Holdings Inc (NYSE: SPCE) closed down 6.60% on Friday following the news that US regulators have grounded its SpaceShipTwo aircraft until an investigation into its last voyage is concluded.
This is a severe setback for Virgin Galactic and potentially puts the planned flights this month and next in jeopardy. As a result, Virgin Galactic was overcome with selling towards the end of the week, reversing more than 15% from Thursdays $28.77 high.
This is likely to see SPCE encounter even more selling when the market opens today after the three-day break. And whilst for many, the four-day trading week will be shorter than most, for holders of Virgin Galactic, it could be a very long indeed.
SPCE Price Chart (Daily)
The daily chart shows the stock reversed from horizontal resistance around $28.60 on Thursday. Furthermore, Friday's leg lower has now forced the price out of its recent uptrend. The trend at $25.30, formerly support, now becomes the first resistance level. Moreover, if the stock comes under more pressure this week, a logical target becomes the May low at $14.27.
However, that would represent a serious deterioration. And on that basis, SPCE is unlikely to fall that much unless the investigation takes a turn for the worse. But in saying that, until the FAA conclude their probe, investors will likely stay skittish.
The forecast will remain negative until such a time the stock recovers trend resistance at $25.30. Only this would negate the bearish view.
Virgin Galactic Stock Price Chart (daily)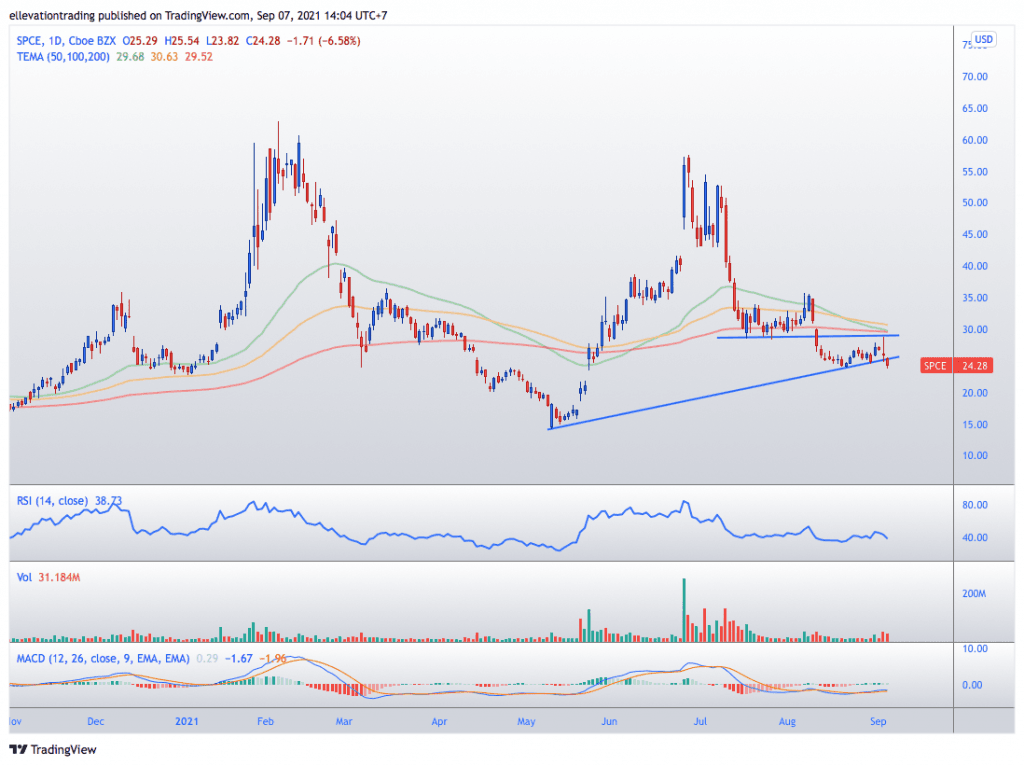 For more market insights, follow Elliott on Twitter.