Virgin Galactic Stock (NYSE: SPCE) collapsed after-hours, losing 14% after the space tourism company delayed commercial flights. Virgin has pushed back its test flight schedule after a recent test 'flagged a possible reduction in the strength of certain material'. The company will now embark on a refurbishment programme that will delay commercial operations until the fourth quarter of 2022.
CEO Michal Colglazier said: "The re-sequencing of our enhancement period and the Unity 23 flight underscores our safety-first procedures, provides the most efficient path to commercial service, and is the right approach for our business and our customers," As expected, the market took the news badly. Virgin Galactic slid 14.17% to a five-month low of $20.65 after the bell, erasing all of 2021's gains. The announcement comes as a bitter blow to shareholders who have enjoyed a turbulent ride this year. In June, Virgin Stock was flying higher at $57.50 following founder Richard Branson successful flight. However, since then, the stock has been plagued with problems. Including Branson's $250m share sale and a Federal Aviation Administration investigation. However, after the FAA signed off on future flights, the outlook appeared to improve, making yesterday's news even harder to swallow.
SPCE Technical Analysis
The daily chart shows, the stock should open at the lowest price since May. As a result, recent dip buyers may liquidate positions. The psychological $20.00 barrier may offer some initial support. However, if breached, the logical technical target on the downside is the May low of $15.91.
Above the market, the 50-day moving average at $25.46 is the first significant resistance level. Following that, the 10, ad 200-DMA's at $30.89 and $31.33 price additional targets. However, considering the gravity of the delay, the downside should prevail. The path of least resistance is lower as long as the stock stays below the 50 DMA. Therefore, a close above $25.46 invalidates the bearish view.
Virgin Galactic Stock Price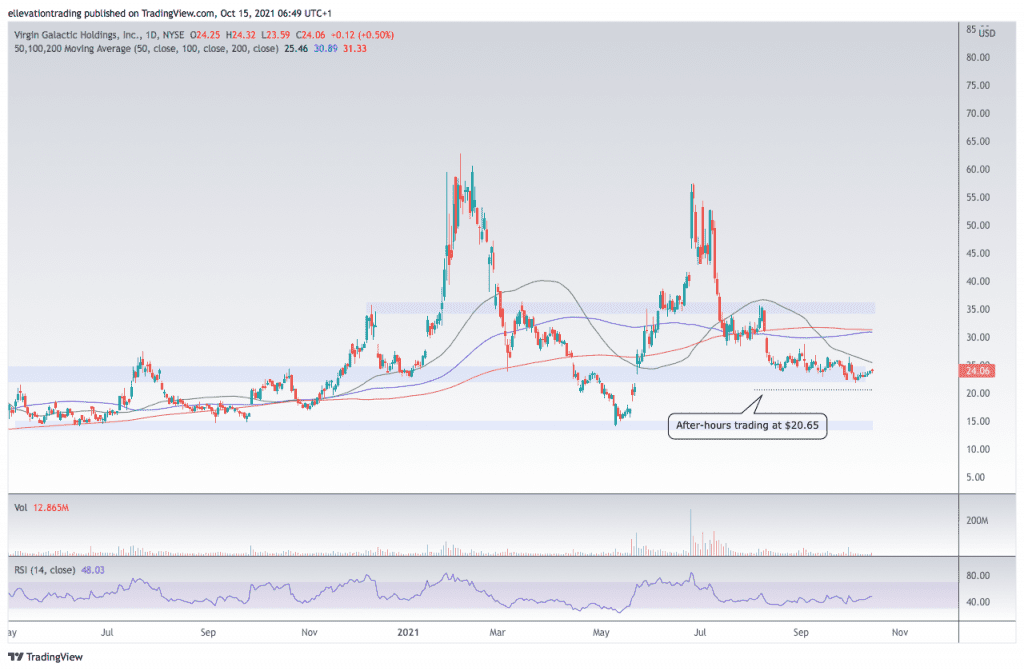 For more market insights, follow Elliott on Twitter.