The USD/RUB pair continues its losing streak this week. It is now having its third consecutive red week in a row. The downtrend could be linked to a strong rebound in the US dollar strength.
On Thursday, the US dollar to Russian ruble exchange rate fell 0.73%. The negative price action follows a 0.56% rebound from the 91.83 support yesterday. On a higher timeframe, USDRUB is down 8.9% from its yearly highs. For the past couple of months, the pair has been hovering within a specific range on its chart.
While Putin believes that the Russian economy is performing better than previously expected, analysts think otherwise. While the economy might seem strong due to the increased spending from the government, things are not that great in the underbelly.
Nevertheless, the Russian GDP is still expected to expand by 2.2% this year. This is three times more than the expected growth of the EU zone. The International Monetary Fund previously expected the Russian GDP to grow by only 0.7%. However, the Russian defense budget has now reached 3.9% of the country's GDP and may increase to 6% in 2024.
These things point towards an overheated economy which is already facing sticky inflation and a tight labor market. These conditions are acting as headwinds for the USD/RUB rate which is already hanging by a thread.
USDRUB Chart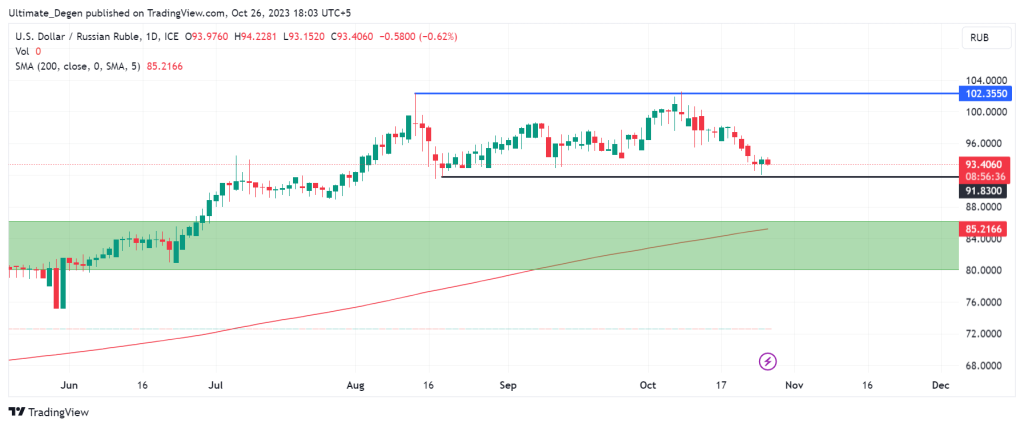 USD/RUB Forecast
It is quite evident from the chart above that the Russian ruble is gaining strength against the US dollar. You may also see that the USDRUB pair has a strong support around 91.525 which resulted in a bounce earlier this week. If this support is broken, the ruble may soar against the greenback.
In this case, the USD/RUB forecast will turn bearish with a main target of below 83.3 level. This may result in a retest of the demand zone which lies below the 83.3 level.
As of now, the bulls are holding the 91.525 support very nicely. Today's negative price action comes from a surge in the dollar strength index and a rebound in the bond yields.