The dollar strength (DXY) index has been on a tear since the start of September 2023. The index has now risen to its highest level since March, which shows that investors are preferring dollars over riskier assets like equities and bonds.
The US Federal Reserve decided not to raise the interest rates in this week's FOMC meeting. This was in line with the market expectations due to an ease in inflation in the past few months. However, the equity markets still experienced increased selling pressure after the FOMC decision.
Precious Metals Tanks As Dollar Strengthens
On Thursday, the DXY index extended its gains by another 0.11%. The rising dollar strength index resulted in a sell-off in precious metals. During the London session, Gold was down 0.36%, and Platinum price fell 0.86%. However, Silver remained resilient, and its price was unchanged from yesterday.
Another Rate Hike Is Likely This Year
Even though the recent FOMC meeting concluded with a pause in rate hikes, the Fed Chair has still put another rate hike on the cards for this year. According to the Fed Chair, Jerome Paul, an extended government shutdown may limit the Fed's access to crucial economic data required for key policy decisions.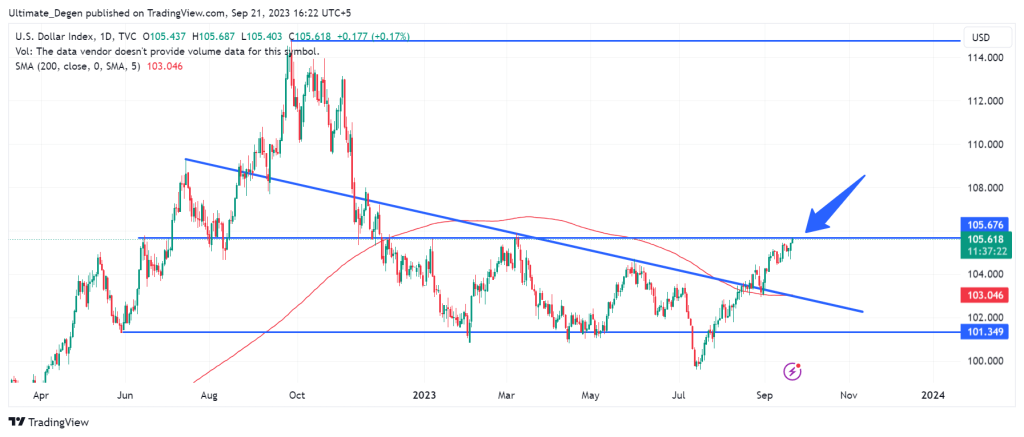 DXY Index Hits 105.6 Resistance
For the past few weeks, I have been forecasting a retest of the 105.6 points resistance level by the DXY index. This retest occurred today as the index surged to 105.687 on Thursday. The increase in the strength of the greenback comes despite a pause in rate hikes.
The ongoing dollar rally can be due to the fact that most analysts are now expecting the rate to remain high till the middle of 2024. This may further strengthen the USD against the other fiat currencies as the investors always prefer low-risk yields. In fact, the 10-year yield has already hit its highest level since November 2007.