After dropping by 10 per cent on Tuesday last week, which was followed by another aggressive push to the downside that resulted in a 16 per cent plunge, XLM price has stabilized and continues to trade in a horizontal market. In today's trading session, it is down by less than a percentage point but continues to show signs of a possible recovery before the day ends.
Why Did Stellar Price Drop Last Week?
The cryptocurrency industry was disrupted by the news of the second-largest crypto exchange collapsing last week. The impact was an immediate market reaction that resulted in most cryptocurrency projects starting a bearish trend.
Stellar Lumens was one of these projects that reacted to the news with a sharp decline on Tuesday and Wednesday last week. The drop was also exacerbated by Stellar Lumens significant correlation with the industry, which meant a huge drop in the industry would see XLM price also getting dragged down.
Today, even as Stellar Lumens continue to recover, there is still hesitance in the markets from the investors who fear a repeat of last week. This is evident when looking at the trading volume, which as been consistently falling since the FTX debacle. For instance, in the past 24 hours, the Stellar Lumens trading volume has fallen by over 35 per cent.
XLM Daily Chart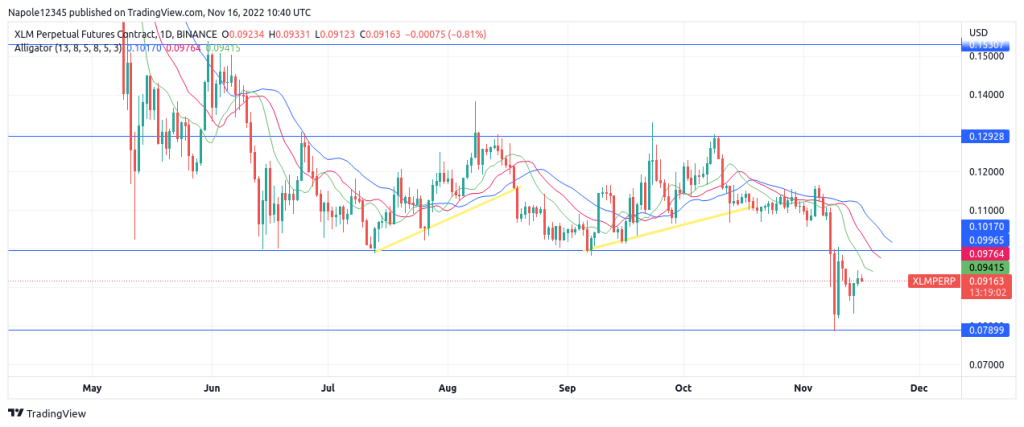 XLM Price Prediction
Despite the past few trading sessions showing signs of recovery, XLM price is likely to trade within the narrow margins of support and resistance of $0.078 and 0.097, respectively, for the next few trading sessions.
Therefore, my XLM prediction expects the current fundamental factors, such as failing crypto exchanges, to continue impacting the industry and, by extension, Stellar Lumens. However, a trade below or above the $0.078 and 0.097 price levels will invalidate my horizontal price analysis. Prices moving outside of these price ranges will also signal the start of new trends, with a trade below $0.078 signalling the resumption of a bearish trend.